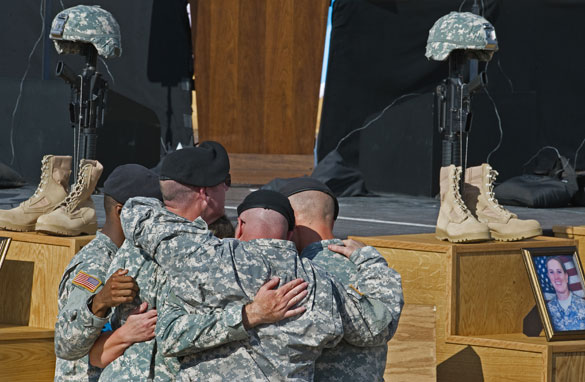 (PHOTO CREDITS: Getty Images)
FROM CNN's Jack Cafferty
Most Americans think that authorities could have prevented the massacre at Fort Hood... and when the politicians sniff this kind of sentiment, they can't wait to rush into hearings.
A new CNN-Opinion Research Corporation Poll shows 64 percent of those surveyed say law enforcement or the military should have been able to stop the shooting rampage... 31% say the incident on the Texas Army base couldn't have been prevented. The poll also found Americans are split as to whether the attack was an act of terrorism.
U.S. Army psychiatrist Nidal Malik Hasan, who is Muslim, is charged with thirteen counts of premeditated murder. He's accused of wounding dozens more.
The Senate Homeland Security Committee held its first hearing into those shootings today. They want to know if authorities failed to "connect the dots" when it came to Major Hasan. NPR reports that Hasan's supervisor at Walter Reed wrote a memo two years ago saying he showed a "pattern of poor judgment and a lack of professionalism."
The committee also plans to look into why federal authorities didn't do anything after finding e-mails exchanged between Hasan and a radical Muslim cleric - with alleged ties to al Qaeda.
Also, there's the question of whether a joint terrorism task force that had information on Hasan shared it with the military and others. Experts say they worry about "political correctness" - and that some signs may have been ignored because Hasan is Muslim.
Pres. Obama wanted Congress to hold off on hearings until federal authorities finished their investigation.
SO HERE'S MY QUESTION TO YOU: Could authorities have prevented the Fort Hood shootings?
Interested to know which ones made it on air?


Anthony in New Jersey
As long as this country pacifies illegal immigrants, embraces Islamic sensitivities and handles our minorities with kid-gloves for fear of legal repercussions, they will use our system to gain advantage. We're becoming increasingly predictable because of this political correctness. Those not willing to assimilate use our tolerance as an advantage to undermine us. While trying to be the freest country on earth, we're being too tolerant and risk destruction from within. Our authorities can't even use profiling as a legitimate means of policing. Thus you have the atrocity that was Fort Hood.
Joe in Colorado
Jack, What a dumb question. We could have maybe prevented this if we had an SS Nazi type organization in this country. What is next? Detention camps for all Muslim Americans and people with "poor judgment" performance reviews?
Harrison in Mobile, Alabama
Yes, but had they done so, instead of talking about how this could have been prevented, there would be a ton of complaints from the general public and the media about how the military is racist, they profile, they hate Muslims, etc, which would almost certainly be coupled with unnecessary congressional hearings and widespread artificial outrage at said Military practices...which would have been a small price to pay given what the alternative turned out to be, eh Jack?
Jafsie
The investigation by Homeland Security has just begun, yet Congress is already barreling forward and politicians on both sides are spouting their rear-view wisdom. And now, you're inviting CNN viewers to weigh in with their verdicts as well? Please, Jack, stop encouraging Americans to mouth off on yet another subject that they know next to nothing about.
Carole in West Palm Beach
Jack, This tragedy should have been averted. Is everyone color blind? There were "red flags" all over this field: e-mails to an extremist cleric? Poor performance reviews from his fellow mental health professionals? PowerPoint presentations extolling the" virtues" of suicide bombers? A loner? Where's Nancy Drew when you need her?