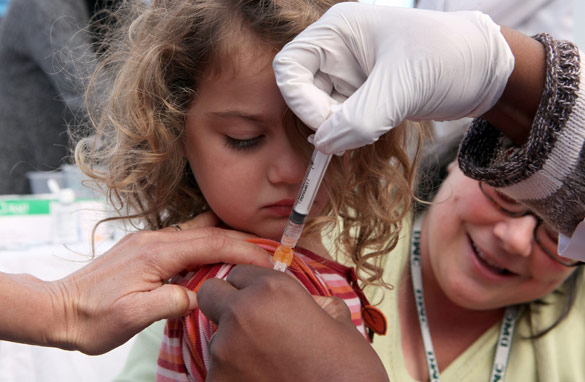 A three-year-old girl receives an H1N1 vaccination in San Pablo, California. (PHOTO CREDIT: JUSTIN SULLIVAN/GETTY IMAGES)
FROM CNN's Jack Cafferty:
With the swine flu now widespread in 48 states, Americans are starting to lose confidence in the government's ability to prevent an epidemic.
A new CNN/Opinion Research Corporation poll shows only 51-percent of those surveyed are confident the government can stop a nationwide epidemic of the h1n1 virus. That number is down from 59-percent in August.
49-percent say they're not sure the government can prevent an epidemic; and that's up from 40-percent this summer.
The poll also shows only a little more than half of those surveyed think the government and private industry can provide enough swine flu vaccine for everyone who wants it. That number is virtually unchanged in the last few months.
Meanwhile mothers with children younger than 18 are especially skeptical about the government's abilities here. Perhaps not surprising when you consider that children are some of the hardest hit by this virus; and a lot of people still can't get their hands on the vaccine.
Health officials say there are more than 41 million doses of the H1N1 vaccine available.
Here's my question to you: How confident are you the government can prevent a swine flu epidemic?
Interested to know which ones made it on air?
Susan writes:
It's funny how people don't want the government messing with health care, but they expect the government to prevent a swine flu epidemic. The government just can't win. What do you want people? You can't have it both ways.
Jim from Providence, Rhode Island writes:
There is only one reason that there is no H1N1 vaccine in the U.S.: money. If everyone got the vaccine, the big drug companies would not make billions on over-the-counter flu medication.
Tina writes:
Why is this even a question? Yes, the U.S. government has not been able to get enough doses of the vaccine out but it's the private sector's fault. The government cannot stop an epidemic, but I'm not without confidence in the U.S. government. It is up to the U.S. people to stop it by taking precautions and using our basic hygiene skills.
Annie writes:
About as confident as I am in the government doing anything for us out here on Main Street. Wall Street got their shots and then some, and we got nothing. That tells me all I need to know.
Rich writes:
If Rush Limbaugh got scared and fled the country, would anybody wonder where the swine flew?
John from Colorado writes:
As it has been for centuries, this is flu season. H1N1 appears to be somewhat of a greater risk, but the solution is really more up to families and individuals than the government. Following President Obama's orders, I have been washing my hands like Lady McBeth 24×7. I'm 66 and have never had a flu shot in my life. With that said, although today I feel like a rooster, tomorrow I might be a feather duster.