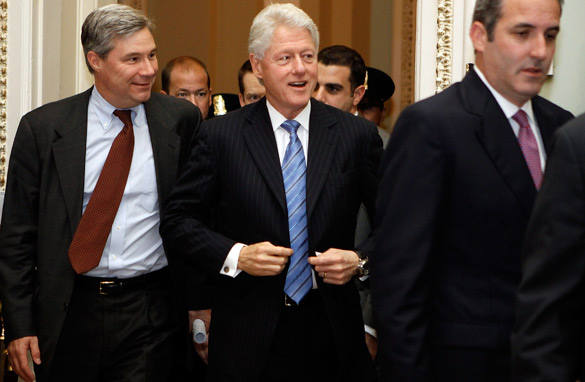 Bill Clinton is accompanied by Sen. Sheldon Whitehouse (D-RI) (L) as he heads into the Senate Democratic Caucus luncheon in Washington, DC. Clinton was on the Hill to talk to lawmakers about passing health care reform legislation through the Senate. (PHOTO CREDIT: GETTY IMAGES)
FROM CNN's Jack Cafferty:
The Democrats are sending in the big guns to try and make health care reform a reality.
Former President Bill Clinton told Senate Democrats earlier today that there's no perfect bill and that the worst thing to do is nothing, adding: "It's important to act, to move, to start the ball rolling."
After the closed-door meeting, Clinton said he told the senators that the U.S. economy won't be able to survive much longer without health care reform.
If one person knows what's at stake for President Obama and the Democrats, it's Bill Clinton. His administration's failure to pass health care reform back in the early 90s is seen as one of the big reasons for the Republican takeover of Congress in 1994.
And now that the House has passed its bill, there's no question the Senate Democrats will need to find some consensus when it comes to things like the public option and abortion funding.
Meanwhile a new poll suggests it's not just members of Congress who need some persuading here.
The Gallup poll shows 41 percent of Americans say a new health care bill would make the U.S. health care system better in the long run; but 40 percent say it would make things worse. The poll suggests people are even more negative about reform when it comes to their personal situation.
What we don't know yet is how much the public's opinion matters. The insurance companies, large pharmaceutical companies and other powerful forces have a vested interest in defeating this legislation. And if the vote was taken today, they would probably win.
Here's my question to you: Can Bill Clinton save health care reform?
Interested to know which ones made it on air?
Linda writes:
Jack, I don't think health care reform needs saving; something will pass and most likely will be inadequate with a good amount of stupid. Even with the shortcomings, the Republicans know something is going to happen. What Bill can do is help to prevent the Senate from putting on a long and silly show and move it along more quickly.
Lisa writes:
I'm beginning to think the only thing that can save health care reform is campaign finance reform. Under lobbyist influence, this bill has line-by-line slowly been tweaked and morphed into an insurance industry profit-protection bill. The wrapper may say 'public option' but what's inside has been swapped for something else.
T. writes:
Before he can "save" heath care, the morally-bankrupt, impeached ex-president needs to save himself. He had his chance and now needs to stop chasing the spotlight. America has had enough of the biting and platitudes of this self-aggrandizing politico.
Paul from Westminster, Maryland writes:
When faced with a choice between public opinion and big corporate donors, the Democrats are really in a bind and split about 50/50. The Republicans have no such problem. They come down on the side of the corporations and then use circular arguments to persuade the sheep that their freedom is at stake. We should cut out the middle men and just vote for the CEOs of the credit card, bank, oil, and health care companies.
Jennifer writes:
How Jack? Bill Clinton couldn't do it before, I doubt he can do it now. We all know who has the last word: corporations. They will get what they want and will just keep putting the screws to the working poor!
Ezekiel writes:
Clinton can impact the decisions made for sure, but the senators need to get past their own ideals and do what is best for the country. That's what a public servant should do. This is a time for our leaders to step up.