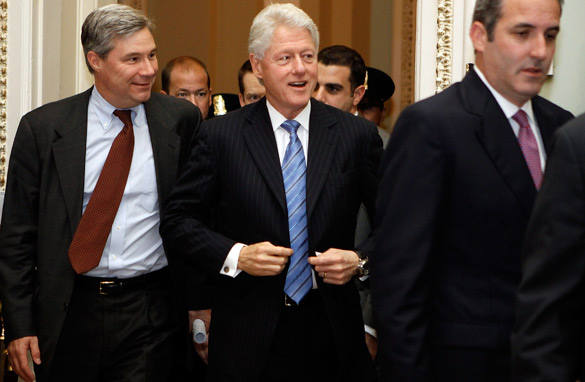 Bill Clinton is accompanied by Sen. Sheldon Whitehouse (D-RI) (L) as he heads into the Senate Democratic Caucus luncheon in Washington, DC. Clinton was on the Hill to talk to lawmakers about passing health care reform legislation through the Senate. (PHOTO CREDIT: GETTY IMAGES)
FROM CNN's Jack Cafferty:
The Democrats are sending in the big guns to try and make health care reform a reality.
Former President Bill Clinton told Senate Democrats earlier today that there's no perfect bill and that the worst thing to do is nothing, adding: "It's important to act, to move, to start the ball rolling."
After the closed-door meeting, Clinton said he told the senators that the U.S. economy won't be able to survive much longer without health care reform.
If one person knows what's at stake for President Obama and the Democrats, it's Bill Clinton. His administration's failure to pass health care reform back in the early 90s is seen as one of the big reasons for the Republican takeover of Congress in 1994.
And now that the House has passed its bill, there's no question the Senate Democrats will need to find some consensus when it comes to things like the public option and abortion funding.
Meanwhile a new poll suggests it's not just members of Congress who need some persuading here.
The Gallup poll shows 41 percent of Americans say a new health care bill would make the U.S. health care system better in the long run; but 40 percent say it would make things worse. The poll suggests people are even more negative about reform when it comes to their personal situation.
What we don't know yet is how much the public's opinion matters. The insurance companies, large pharmaceutical companies and other powerful forces have a vested interest in defeating this legislation. And if the vote was taken today, they would probably win.
Here's my question to you: Can Bill Clinton save health care reform?
Interested to know which ones made it on air?