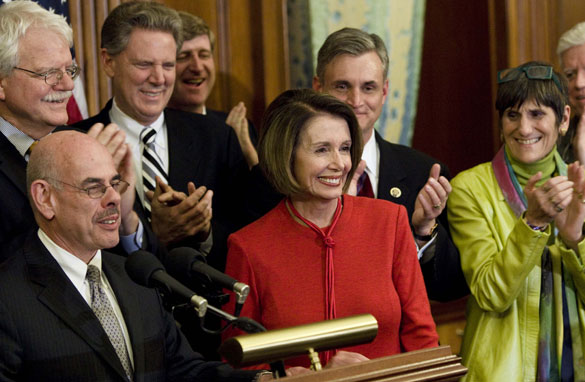 House Democrats clap for Speaker of the House Nancy Pelosi (D-CA) during a press conference after a vote on health care. The House passed the health care reform bill 220 to 215 after a late night vote. (PHOTO CREDIT: Brendan Smialowski/Getty Images)
FROM CNN's Jack Cafferty:
Don't cancel your existing health insurance just yet. Health care reform narrowly passed the House late Saturday night; but it's a long, long way from a done deal in the Senate.
House Speaker Nancy Pelosi is comparing this legislation, which passed by a scant five votes, to the passage of Social Security and Medicare; and President Obama says he looks forward to signing it into law by the end of the year.
Not so fast...
One top Senate Republican, Lindsay Graham of South Carolina, is already declaring the bill "dead in the water."
Here's why: What happens to the so-called public option? Harry Reid still doesn't have the votes to pass that. And Republicans along with Independent Joe Lieberman are promising a filibuster if the public option stays.
The House bill costs hundreds of billions of dollars more than the latest Senate version; which means the Senate could wind up cutting expensive parts of the bill - like a requirement for employers to provide coverage. Another huge difference between the bills is how to pay for reform.
And what about abortion funding? At the last minute, the House passed an amendment that prohibits federal funds from going to insurance plans that offer abortion coverage. For millions of women - this could mean the house bill breaks the promise that "if you like your current health care you can keep it."
This much you can count on. Anytime the House votes late on a Saturday night after last minute changes were made and the promise by Pelosi is broken to post the bill online for 72 hours before a final vote, it ain't good.
Here's my question to you: How much does the House health care bill even matter?
Interested to know which ones made it on air?