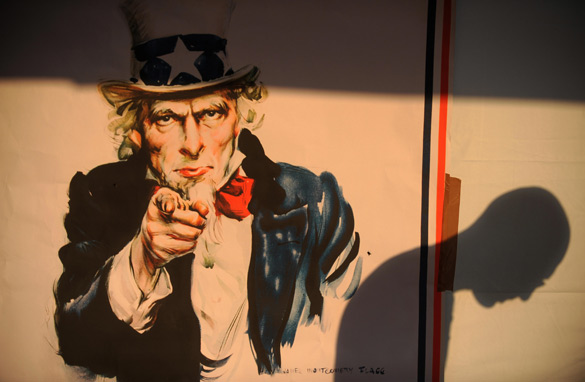 (PHOTO CREDIT: FILIPPO MONTEFORTE/AFP/Getty Images)
FROM CNN's Jack Cafferty:
If you buy the axiom that "You're only as strong as your weakest link," this country is in some serious trouble.
Consider this: 75 percent of America's young people between the ages of 17 and 24 are unfit for military duty. Army statistics show these youngsters are ineligible to enlist for lots of reasons: From lack of education to illegal drug use, being overweight or out of shape to having a criminal record. 75 percent.
This disturbing news comes just a month after the Pentagon met its annual recruiting goals for the first time since 1973. But military commanders point out that during economic downturns, recruitment numbers go up and "a weak economy is no formula for a strong military."
This is scary stuff. We continue to fight two wars and there are additional potential threats from places like Iran and North Korea.
And here is a very real sign our standard of living is declining: Research shows almost half of all U.S. children - and 90 percent of African-American children - will be on food stamps before they reach the age of 20. The current recession could push these numbers even higher.
This study in the Archives of Pediatrics and Adolescent Medicine says many of these children could be at risk for malnutrition and other problems associated with poverty. What kind of future is that for half of our children… and by extension, for the country?
Here's my question to you: How confident are you in the next generation of Americans?
Interested to know which ones made it on air?
Sheryl writes:
As an education specialist and researcher, I believe to my bones that the only way to fight the poverty that plagues the next generation is through education. We adopted our daughter out of U.S. poverty. Her sister was murdered through urban peer violence. Education and having her most basic needs met is what is making the difference for our now 13 year old daughter. Her sister had equal potential, but had to attend school in a dangerous environment. Education is life. The alternative is poverty, incarceration or death.
Emden from Texas writes:
Jack, They can't be worse than my generation: Vietnam, Laos, Cambodia, Bosnia, Somalia, Iraq, Afghanistan, etc. Our legacy: massive debt, unsecured borders, ever-increasing drug traffic to our children. We've squandered everything our parents and grandparents left us. In spite of this, people are dying to get in. Go figure!
Greg writes:
We threw out our Judeo-Christian heritage, its symbols, its moral restraints, its guidelines and this is what secularism has given us back.
Tom writes:
We are a nation full of children raising children; I have no confidence in our future.
Stephanie writes:
I am 52 years old and have worked with young and old people. I have met some very hardworking, dedicated and intelligent young people. I feel this generation is the same as any other generation.
Joe writes:
I used to be a Marine Corps Recruiter. From my experience, I can tell you that we are screwed!
Harry in Millersburg, Kentucky writes:
Careful, Jack. I'm sure that when you were growing up, you heard your elders proclaim something negative about you and your generation and how the country was going to hell because of you. Guess what? They were right.