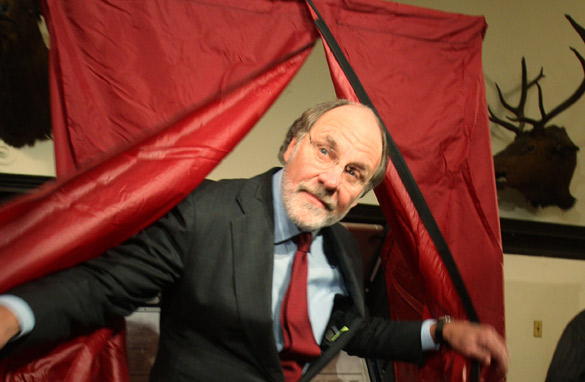 New Jersery Governor Jon Corzine casts his ballot at a polling station in Hoboken, New Jersey. Corzine faces Republican Chris Christie and Independent Chris Daggett in today's election. (PHOTO CREDIT: GETTY IMAGES)
FROM CNN's Jack Cafferty:
There's an adage that says "all politics is local," which is true - except when it's not. And today's a day when it's not.
Ordinarily a race for an obscure congressional seat in upstate New York would go by unnoticed - even by half the people who live there. But not this time. Same for the governors' races in New Jersey and Virginia.
Because of a growing disaffection with some of President Obama's policies, a lousy economy, two wars, and the failure of the Democratic Congress to do much of anything worthwhile... there's an abnormal amount of interest in how the people in those three races are likely to vote.
With congressional midterms coming a year from now - you can bet the spin doctors from both parties will be working late into the night to interpret the results in New Jersey, Virginia and New York in the best possible light for their party.
Governor Jon Corzine of New Jersey is in a nail-biter with a former Republican prosecutor whom Corzine implied is fat. The fat guy might win.
In Virginia - President Obama has made a significant political investment in the Democrat candidate for governor - but all the polls leading up to today indicate the Republican is going to win.
And that obscure upstate congressional race in New York has become a contest between an ultra-conservative and a Democrat. The Republican dropped out. She wasn't conservative enough.
Here's my question to you: What will today's races in New York, New Jersey and Virginia tell us about the national political landscape?
Interested to know which ones made it on air?