FROM CNN's Jack Cafferty:
Terror suspects at Guantanamo Bay will soon be offered the swine flu vaccine. While millions of Americans can't get their hands on this stuff - the 200 plus detainees at Gitmo will have the option of being vaccinated against H1N1.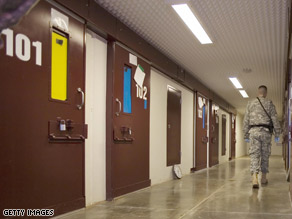 A guard stands his position at Camp V on the US Naval base at Guantanamo Bay, Cuba.
The Pentagon says it's because people held in detention facilities are at higher risk for the pandemic. The soldiers at Gitmo will be offered the shots before detainees and others on the base. Similar plans are reportedly under way to vaccinate inmates in federal prisons.
You could make a pretty good argument that people should be outraged by this. Democratic Congressman Bart Stupak is calling on the Pentagon to reconsider its decision, saying detainees shouldn't get preferential treatment.
Meanwhile people in this country are waiting in line for hours to get themselves and their children vaccinated. The CDC had hoped to have 40 million doses of the swine flu vaccine available by the end of October - but manufacturing delays forced them to revise that number down to 28 million doses. Meantime the virus is spreading across the country - particularly hitting children, teens and pregnant women. Another 19 youngsters died in the last week.
A couple weeks ago - I mentioned how one of the largest pediatrician's offices in Manhattan couldn't say when or if the swine flu vaccine would be available for a co-worker's toddler. Well - still nothing. There's such a limited supply that they're only offering it for a few select kids with underlying conditions. But Gitmo detainees can get it.
Here's my question to you: If there is a shortage of the swine flu vaccine, should terror suspects at Guantanamo Bay get it before millions of Americans?
Interested to know which ones made it on air?
Dave from Bangor, Maine writes:
Should prisoners in any prison get better medical treatment than the law abiding citizens of the U.S.? The answer is no, but the reality is that they do. Prisoners who need organ transplants get moved to the front of waiting lists, the reason being the Constitution. Because of a little provision that protects people against cruel and unusual punishment, and the modern interpretation of that amendment, we have to give better medical care to people who could be waiting on death row than we do to those Americans who can't afford health insurance.
Leo writes:
Has the government in this country completely gone bonkers? Women and children first, law abiding citizens first, Americans first. Stop making us the enemy.
Jim from Nevada writes:
Jack, Providing decent medical care to inmates is a tradition in America and, I would argue, a good one. Treating the inmates at Guantanamo like third or fourth class citizens might seem a good idea while you're enraged, but loses its appeal once you calm down and really think about it. Those inmates haven't ever had the privilege of a trial. We just assume they're guilty. Is it even remotely possible that, in a few cases, we're wrong?
Mike in Fall River, Massachusetts writes:
Jack, Drop off the detainees at a firehouse in New York City and have the N.Y. Fire Department administer the vaccine. I can guarantee they will never need another one.
D. writes:
Probably not, but 200 or so shots are not going to break the vaccine bank. Let's protect the servicemen and women any way we can.
Steve writes:
Anybody here who recommends that the Gitmo prisoners get a swine flu vaccine should be investigated by the FBI, plus they should get a kick in the butt.