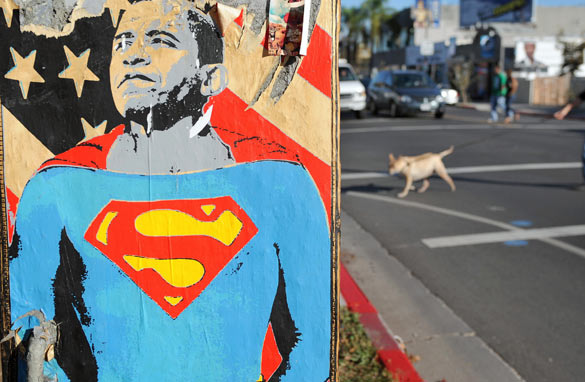 A poster of then President-elect Barack Obama as Superman is seen on November 5, 2008 on Melrose Avenue in Los Angeles, California, one day after Obama won the election. (PHOTO CREDIT: GABRIEL BOUYS/AFP/GETTY IMAGES)
FROM CNN's Jack Cafferty:
It's been one year since President Obama defeated John McCain and rode into office promising "change we can believe in."
So - what has he done in the first year?
Some say Mr. Obama's biggest accomplishments have been keeping the financial crisis from becoming worse... and improving America's image abroad.
Democrats credit the $787 billion economic stimulus package with rescuing the economy... although Republicans call it a big waste... and with nearly 10 percent unemployment, the country is still waiting for the jobs to come back.
The president and Congress have spent most of the first year wrestling with health care reform and if we get anything at all - it's probably going to fall far short of meaningful reform.
Meanwhile President Obama has done nothing to regulate Wall Street or close the nation's borders. The deficits are beyond absurd. The wars continue - as does most of the government secrecy left over from the Bush administration.
And the president's policy of engaging our enemies hasn't produced many results yet when it comes to countries like Iran and North Korea.
Even his liberal supporters don't think he has delivered on issues like don't ask-don't tell, climate change and education reform.
You could make the argument Superman couldn't have done this stuff in a year either.
Here's my question to you: One year after the election, how's President Obama doing?
Interested to know which ones made it on air?
John from San Jose, California writes:
Jack, As an independent, I walked away from Obama because he did nothing to solve the real problems of corruption and transparency of politics and Washington. Instead he and his handlers are playing politics like no other before him. All that I can hope as he moves forward is that he does something to change Washington because so far, Washington has changed him. The grade I give him so far is a D-.
Juan writes:
I do not have a college degree, yet I have a great, secure job making a mid-forties salary. I have a great house in a safe area with a great public school district. My mortgage is up-to-date. My credit score is in the 750s. My 401K is solid and growing. And, my wonderful health insurance just became $100-per-month cheaper, without any reduction in benefits. So, in my opinion, President Obama is doing a tremendous job helping a little guy like me get ahead, so I can take care of my family. I fully support his re-election.
Janie from Springfield, Massachusetts writes:
I think he is starting to look too much like Jimmy Carter: indecisive, unsure, weak, ineffective. He needs to make some decisions now. I thought hell would freeze over the day I agreed with Rush Limbaugh, but I do agree with his comments from this weekend: Obama is looking and acting inexperienced. He needs to turn this around immediately before he becomes a "lame duck."
Jim from Dayton, Ohio writes:
It's a very big ship and it was going in very much the wrong direction, on just about every issue that mattered. The president has grabbed the wheel and is wrestling this mammoth beast, but moving it is a slow process. Gentle pressure relentlessly applied will eventually get us turned around and I think soon we will begin to reap the benefits of that.
Eric from Wilmington, Delaware writes:
In my humble opinion, there is a huge chasm between Candidate Obama and President Obama. I've been very disappointed.
Bob writes:
I think Pres. Obama is doing what I expected. I'm looking forward to the "Change We Can All Afford" in 2012.