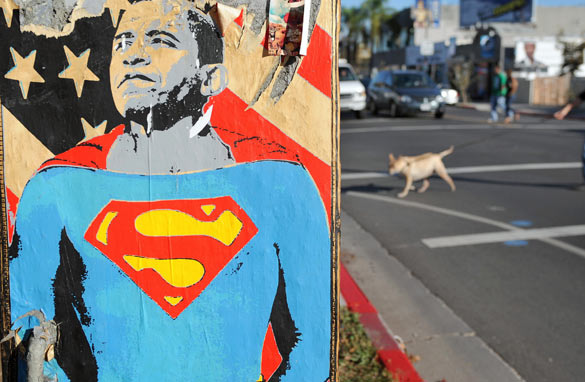 A poster of then President-elect Barack Obama as Superman is seen on November 5, 2008 on Melrose Avenue in Los Angeles, California, one day after Obama won the election. (PHOTO CREDIT: GABRIEL BOUYS/AFP/GETTY IMAGES)
FROM CNN's Jack Cafferty:
It's been one year since President Obama defeated John McCain and rode into office promising "change we can believe in."
So - what has he done in the first year?
Some say Mr. Obama's biggest accomplishments have been keeping the financial crisis from becoming worse... and improving America's image abroad.
Democrats credit the $787 billion economic stimulus package with rescuing the economy... although Republicans call it a big waste... and with nearly 10 percent unemployment, the country is still waiting for the jobs to come back.
The president and Congress have spent most of the first year wrestling with health care reform and if we get anything at all - it's probably going to fall far short of meaningful reform.
Meanwhile President Obama has done nothing to regulate Wall Street or close the nation's borders. The deficits are beyond absurd. The wars continue - as does most of the government secrecy left over from the Bush administration.
And the president's policy of engaging our enemies hasn't produced many results yet when it comes to countries like Iran and North Korea.
Even his liberal supporters don't think he has delivered on issues like don't ask-don't tell, climate change and education reform.
You could make the argument Superman couldn't have done this stuff in a year either.
Here's my question to you: One year after the election, how's President Obama doing?
Interested to know which ones made it on air?