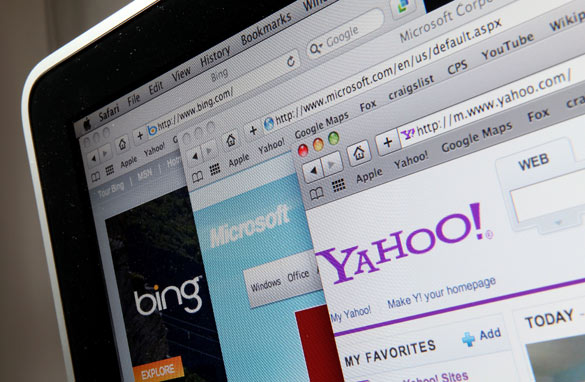 (PHOTO CREDIT: Justin Sullivan/GETTY IMAGES)
FROM CNN's Jack Cafferty:
Happy Birthday to the Internet.
The system that has revolutionized almost every part of our lives turned 40 years old this week. October 29, 1969 was the first time people sent a computer-to-computer message. It was in California that UCLA Professor Leonard Kleinrock successfully connected the school's host computer to one at Stanford University.
The project had started a few years earlier: After Russia successfully launched Sputnik in the late 1950s, U.S. leaders stepped up funding to enter a technology race with their Cold War rival.
Fast forward 40 years - and It's pretty hard to imagine society without everything we're used to about the Internet:
E-mail, online shopping, video games, Google, bloggers, YouTube, and more recently social networking sites like Facebook and Twitter. The list goes on and on...
Of course there's also a dark side to the Internet - computer worms, viruses, the annoying e-mail spam, identity theft, online scams and fraud, child predators and pornography - not to mention the fact that the word privacy may never have the same meaning again.
At a 40th birthday party for the Internet, Kleinrock - who sent that first message - talked how it's a "democratizing element" and that everyone can have an equal voice. But he also says there's no way back at this point, and that "we can't turn it off."
Kleinrock says in the future, the Internet will be "present everywhere."
Kinda feels like it already is.
Here's my question to you: How would your life be different without the Internet?
Interested to know which ones made it on air?