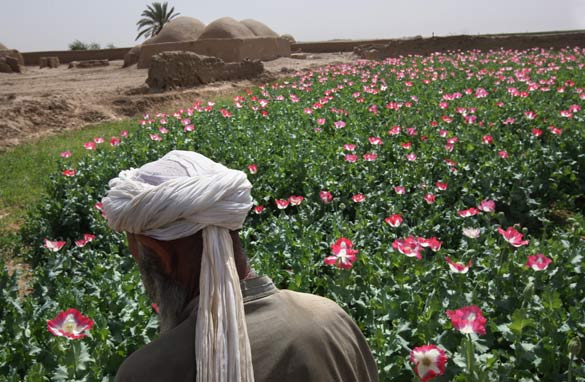 An Afghan opium farmer stands next to his poppy field in southwest Afghanistan. U.S. Marines based there are battling a Taliban insurgency funded in large part by the drug export trade. (PHOTO CREDIT: John Moore/GETTY IMAGES)
FROM CNN's Jack Cafferty:
As U.S. troops suffer the deadliest month so far in the war in Afghanistan, it seems worth asking exactly what our strategy is.
Turns out the U.S. is now set to pay Taliban fighters to switch sides and stop killing our troops. Supporters say the buyout idea is meant to separate local Taliban from their leaders,which is similar to a program used to win over insurgents in Iraq.
Many of these fighters owe no particular allegiance to the Taliban, but rather support them for a paycheck and because there is no other way for them to support their families.
But experts say that although the program may have some success, the U.S. is ultimately buying a "very temporary allegiance." You don't have to be an expert to figure that out.
Speaking of payments, The New York Times reported yesterday that the brother of Afghan President Hamid Karzai is a suspected major player in the country's drug trade - and has been on the CIA payroll for eight years.
This makes no sense. U.S. officials talk about how Afghanistan's opium trade threatens the stability of the country, pays for the Taliban fighters' war effort against us, and corrupts government officials.
Ahmed Wali Karzai denies that he has anything to do with drug trade, and says he doesn't take payments from the CIA. I think I will choose to believe The New York Times.
Officials also say there's evidence that the president's brother helped create hundreds of thousands of phony ballots and set up dozens of so-called ghost polling stations for the August election.
If it's true, no wonder Harmid Karzai won; and if this stuff doesn't make you scratch your head, it should.
Here's my question to you: What exactly are we doing in Afghanistan?
Interested to know which ones made it on air?
Robert writes:
We are participating in a giant extortion scheme. Afghan warlords have convinced us we need to occupy their country and spend billions and billions of dollars there or else we will suffer another 9-11 attack. We have fallen for it hook, line and sinker.
Scott from Panama City, Florida writes:
Jack, There is no sane reason to be in Afghanistan now. The "Karzai government" is beyond corrupt, and the opium trade is too lucrative for the local farmers to give up… The current military policy is a complete waste of American lives. Defoliate the entire county several times a year for ten years and drop by parachute corn and wheat seeds for the farmers to plant… Without the opium, the Taliban will melt away.
Jill writes:
We're keeping the Taliban and al Qaeda from gaining access to the nukes in Pakistan.
David writes:
We're supporting a burgeoning kleptocracy which thrives on limited instability for lack of oversight. We have to decide whether we will support real democracy by holding Karzai accountable to the election process and increasing stability with better strategy or whether we remove ourselves from the situation entirely and let the country stabilize itself.
Jim writes:
We certainly are not attempting to win the war in Afghanistan. The U.S. government is aiding and abetting the Taliban by not destroying the poppy fields that provide them with funds necessary to finance their war. American policy is actually putting weapons into the hands of the Taliban. Explain that to the families of the fallen. It is disgusting beyond belief!
T. writes:
Jack, What are we doing in Afghanistan? The same thing we did in Iraq, Vietnam, etc. If we were ever at peace, defense contractors would need a bailout. Talk about too big too fail.