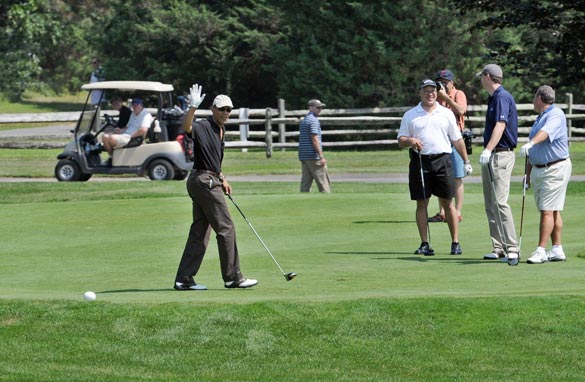 President Obama is pictured golfing on Martha's Vineyard back in August. (PHOTO CREDIT: JEWEL SAMAD/AFP/Getty Images)
FROM CNN's Jack Cafferty:
President Obama promised to be different - but he's not.
The Washington Times reports that the president has been giving top Democratic contributors special access to the White House. Internal Democratic National Committee documents show this includes everything from private briefings with top administration officials - to invitations to big speeches and town hall meetings - to golfing with the president in Martha's Vineyard - to birthday visits to the Oval Office... plus bowling and movies at the White House.
Remember the hell President Clinton caught when we found out he was letting contributors sleep in the Lincoln bedroom?
Handing out goodies to big money contributors just ahead of the midterm elections flies in the face of all of that high-minded rhetoric about reform, lobbyists, transparency etc. that we heard during the campaign. You can buy access to this president for $30,400 as an individual or for bundling $300,000.
The White House insists President Obama has set the "toughest ethics standards in history" and they say many of these guests weren't only fundraisers, but personal friends of the president. Whatever they are - it smacks of selling access to the highest office in the land in exchange for political donations, and it stinks.
Democratic Party officials say there's "absolutely no correlation" between fundraising and attending White House events, and insist Mr. Obama's efforts to reward major donors are on a far smaller scale than other recent presidents.
Here's my question to you: Should big Democratic contributors be given special access to the White House?
Interested to know which ones made it on air?
Jackson from Belgrade, Montana writes:
Are you kidding? Of course high-dollar donors get special access to the highest office in the land. That's the way it works, and everyone knows it. This shouldn't be a surprise to anyone. And the fact that the president is going back on yet another campaign promise is evidence of a startling pattern. I voted for the man; but I'm beginning to experience buyer's remorse.
Paul writes:
Are you serious? The Washington Times, a notoriously biased right-wing rag, is your source material for outrage over White House access? And pretty frivolous, inconsequential access at that. Golf? C'mon, Jack. Where was the Washington Times' reporting on lobbyists and corporate criminals who had the free run of The Bush Administration for eight solid years?
Gayle writes:
Jack, It's refreshing to see that you do not exclusively rail against Republican antics and unethical behavior. Of course Obama and the Democrats employ pay to play: In the White House or Congress, contributions and special interests rule.
Sonny from Baltimore writes:
Jack, Sometimes I think we have to stop crying about everything the president does. I don't see anything wrong with some campaign contributors going to the White House. It's part of getting elected.
Susan from Birmingham, Alabama writes:
This president is no different than any other president. He promises things that he can never deliver during the campaign, such as change and transparency. Democratic donors getting special treatment should be no surprise, nothing has really changed.
Ralph in Alabama writes:
Oh stop it, Jack. You're starting to sound like Glenn Beck!
Richard writes:
Sure, why not, Jack? During the last administration, we let idiots have special access to the White House starting at the top!