FROM CNN's Jack Cafferty:
When it comes to health care reform - there are few issues that are more explosive than abortion. Democratic Congressman Bart Stupak of Michigan says he wants to make sure that taxpayer dollars do not pay for abortions. Stupak says some of his fellow Democrats, including House Speaker Nancy Pelosi, are not happy with his public campaign to change the bill.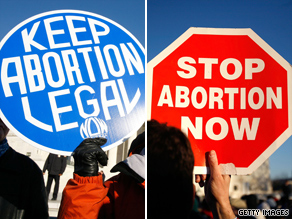 He says he's been working with party leaders on a compromise, but so far nothing... The congressman says if there's no vote on abortion funding - as many as 40 Democrats could vote against the health care bill in its entirety.
Over in the Senate - the Finance Committee bill contains provisions that Democrats say would keep federal money from covering abortions. But Republicans and other critics say these measures don't go far enough.
President Obama has vowed that "no federal dollars will be used to fund abortions." And, that's been the law of the land for decades. The 1976 Hyde Amendment prohibits the use of federal funds for abortions through Medicaid - except in cases of rape, incest, or medical necessity.
Meanwhile - one 2003 study found that 46 percent of insured workers had coverage for abortions. Supporters of abortion rights say that if the government bans plans that offer abortions - it would mean millions of women could lose the benefit they currently get.
One thing is for sure: Until abortion is resolved as an issue in health care reform, there won't be any.
Here's my question to you: How should health care reform handle the issue of abortion?
Interested to know which ones made it on air?
Susi from Tucson, Arizona writes:
I don't think abortion should be funded by the government if it is used as a tool for 'birth control'. But I do feel it should be covered in case of rape, incest and health issues. For any other reason, the person seeking an abortion should bear the cost.
Theresa writes:
Viagra is covered by most health plans, birth control pills are not. Female fertility problems are rarely covered, while male fertility problems are. If men got pregnant, we wouldn't be having this argument. Abortion rights would be written into the Constitution.
Ralph writes:
Many of us would like to see abortion covered but since this is such a hot political issue, it does not look likely that health care reform could pass without nixing it. It's a likely topic for compromise in the interests of getting the legislation through Congress this year.
James from New York writes:
Abortion should be covered only if it is the result of rape or sexual assault. Other than that, people who are against abortion shouldn't have to pay for just anyone who wants to abort a child. I am for public option, but against abortion.
Eileen writes:
Gee, I'm a conscientious objector to war, but I don't get to tell the government not to spend my tax dollars on Iraq or Afghanistan. Why then should a conscientious objector to abortion get to tell the government not to spend their money on a legal medical procedure? Whatever happened to the so-called separation between church and state?
Dave writes:
I have no problem with taxpayer dollars used for abortion in the first trimester. The alternative will most likely be taxpayer dollars to support the unwanted children. If the abortion issue is a deal breaker, then let's get it out of the bill.