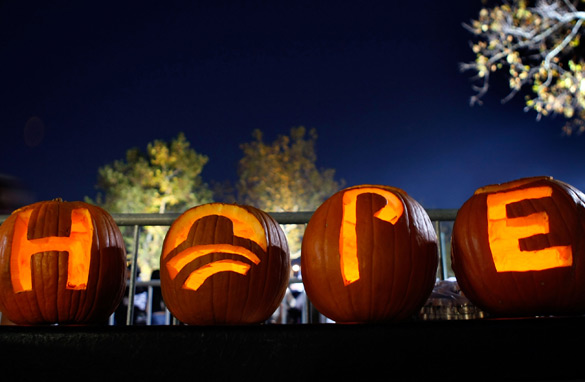 (PHOTO CREDIT: GETTY IMAGES)
FROM CNN's Jack Cafferty:
Some Democrats are calling it the "Obama hangover."
Even with President Obama on the campaign trail, at fund-raising events and taping TV ads for many state and local candidates - it seems like the electricity of the 2008 campaign is a distant memory.
The Los Angeles Times reports how much tougher it is to get people fired up to volunteer and vote Democrat this time around. And, as President Obama tries to address health care, the economy and the wars in Afghanistan and Iraq - some of his decisions may not sit well with voters at the local level.
A lot of eyes are on the races for governor in New Jersey and Virginia; and a congressional race in upstate New York's 23rd district.
With election day a week away - things aren't looking so hot for Democrat Creigh Deeds in Virginia... One new poll shows him trailing Republican Bob McConnell by 11 points. Meanwhile - White House officials have been complaining about the quality of Deeds' campaign... gee, think they're trying to distance themselves from him?
In New Jersey - polls show Democrat incumbent Jon Corzine leading his Republican challenger Chris Christie... but one survey finds 73 percent say a campaign appearance by the president wouldn't affect their vote.
Meanwhile - Pollsters say it's conservatives who are most energized this time around. And Republicans are already describing any victories in these elections as a referendum on President Obama... claiming it could be a sign of things to come in next year's midterms.
Here's my question to you: When it comes to upcoming state and local elections, where has the Obama "magic" gone?
Interested to know which ones made it on air?
C.M. from Los Angeles writes:
The magic is gone because all of the energy we spent on hope and change turned out to be wasted. We were told that the things we believed in would happen if we just got a majority in Congress and a Democratic president. Well now, we have the entire health care bill being rewritten to accommodate one Republican and they're whining that it is too hard to govern because Bush left a mess. At least Bush acted like a president, and he pushed through what he believed in.
Amanda from New Jersey writes:
If Corzine doesn't win in New Jersey, it's not a referendum on Obama, who is wildly popular in this state. It's about an unhappy state dealing with an unhappy economic situation.
Jerry from Georgia writes:
The magic died along with the promises of how things were going to change. The only thing that is now transparent is Pres. Obama. He can talk the talk, but doing the walk requires action and not words. Absent or abstain are not an options when you are the leader.
David from San Diego writes:
It was never there. He is an intelligent, thoughtful policy leader, not a party-based cheerleader. He is "a serious man" whom the Republicans are trying as hard as possible to destroy. The GOP has nothing going for it except a rabid 40-percent of the population making itself into a clownish stereotype. Time will tell.
Tina in Texas writes:
Ask the Republicans who are cheering that he is sinking in polls. The main thing that has helped kill his after-glow is that the jobs are not back or not being created. If he can create the jobs and get our folks back to work, his numbers will come back and then some.
Nellie writes:
Word got out about the snake oil. Time to move to a new town.
Eva writes:
Magic? Come on, Jack! He's the president, not Jesus. He can only do so much.