FROM CNN's Jack Cafferty:
One of the first things Barack Obama did as president was promise to close the Guantanamo Bay prison by January 2010. With three months to go, here's a suggestion: The city council of Standish, Michigan has voted unanimously for a resolution that would move forward with the idea of transferring the Gitmo detainees to Standish Maximum Correctional Facility.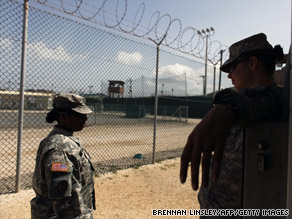 U.S. troopers are pictured inside an exercise yard at Guantanamo Bay U.S. Naval Base.
The state prison is scheduled to be shut down at the end of this month due to budget cuts; and officials are worried what the closure and lost jobs could do to the local economy.
The 19-year-old prison can hold up to 600 inmates. It's surrounded by 16-foot fences that are topped with razor wire and is monitored by five gun towers that overlook the interior and provide perimeter security.
This is a large maximum-security prison in very good condition and far from a major city. Should be perfect. Standish officials hope the move could bring as many as 600 new military and civilian jobs. And they sure could use those jobs in Michigan these days.
The state's governor and both U.S. senators are open to the idea as long as security concerns are addressed. Local officials say they expect to hear from the federal government in the next few weeks.
Meanwhile - as the January deadline ticks closer... the commander of Gitmo says he could clear all 200-plus prisoners with just 10 days notice from the White House.
Here's my question to you: Should the U.S. transfer Gitmo detainees to a Michigan maximum security prison?
Tune in to the Situation Room at 6pm to see if Jack reads your answer on air.
And, we love to know where you're writing from, so please include your city and state with your comment.