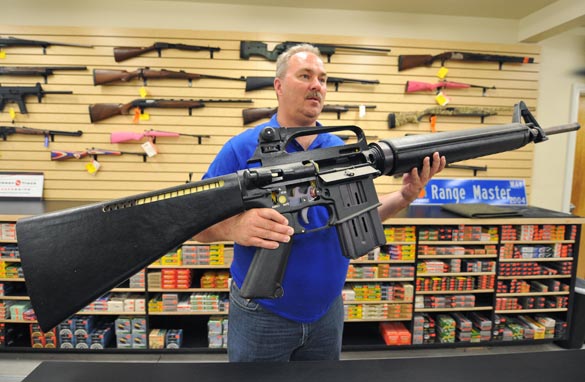 Fearful that Obama's administration is quietly planning to introduce tough new restrictions on gun ownership and worried that the recession will trigger a crime wave, Americans are scrambling to stock up on guns and ammunition. (PHOTO CREDIT: JEWEL SAMAD/AFP/GETTY IMAGES)
FROM CNN's Jack Cafferty:
A majority of gun owners think Pres. Obama wants to ban gun sales.
A new Gallup poll shows 55 percent of those who own a gun, 53 percent who have a gun in the household, and 41 percent of all Americans believe he will attempt to ban the sale of guns while he is president.
This concern is greater among Republicans and people living in the South and Midwest than among Democrats or those living on either coast.
It also helps explain the sharp increases in sales of guns and ammunition. There are reports that U.S. bullet-makers are working around the clock and still can't keep up with the demand for ammunition. Shooting ranges and gun dealers say they've never seen such shortages.
However, President Obama has never said - as a candidate or as president - that he intends to push for a ban of gun sales. The president has said that he believes in the Second Amendment and that "lawful gun owners have nothing to fear." In May, he signed a law allowing people to carry loaded guns in national parks.
Nonetheless, gun rights advocates point to Mr. Obama's record as a state legislator and U.S. senator where he "voted for the most stringent forms of gun control."
They also surely remember that famous time during the campaign when the president spoke about small town people who are bitter and "cling to guns or religion."
This is an issue that speaks to millions of Americans. The U.S. is already the most heavily armed country in the world - with about 90 guns for every 100 citizens.
Here's my question to you: Why are so many Americans worried President Obama will try to ban gun sales?
Interested to know which ones made it on air?