FROM CNN's Jack Cafferty:
When it comes to Afghanistan, the Obama White House keeps pointing fingers at President Bush. Although the war is in its ninth year - they make it sound like things are back to square one.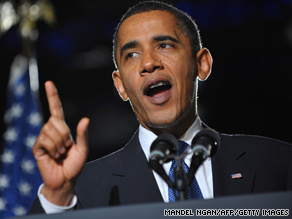 Chief of Staff Rahm Emmanuel says President Obama is asking the questions that have never been asked on the civilian side, the political side, the military side and the strategic side - a not-so-thinly-veiled reference to Obama's predecessor.
As President Obama continues to delay his decision whether to send as many as 40,000 more troops into battle - the latest excuse is the runoff election in Afghanistan - the tide is turning against the war here at home.
A new CNN-Opinion Research Corporation Poll shows 59 percent of Americans are opposed to sending more troops into Afghanistan...only 39 percent support sending troops - and 28 percent say we should withdraw all U.S. forces.
And, perhaps even more troubling for the current administration: 52 percent of those surveyed say Afghanistan has turned into another Vietnam-President Obama's Vietnam.
There's no doubt President Bush deserves a lot of the blame for the problems in Afghanistan. His decision to invade Iraq derailed America's mission there. But President Obama has been in office for nine months now and some days his administration acts like they just discovered we have troops in Afghanistan.
Here's my question to you: At what point should President Obama stop blaming the Bush administration?
Interested to know which ones made it on air?
J.G. writes:
Obama and his administration appear to be in over their heads. They don't have a plan for Afghanistan, unemployment, or the economy so they continue to blame Bush and FOX news. They are starting to look like a bunch of chickens with their heads cut off, throwing excuses and accusations against the wall and hoping some of them stick.
Tim writes:
The time to blame the Bush White House passed months ago. Like it or not, Obama owns the conflicts. Having been in the military for 26 years, I believe Afghanistan is a pretty easy decision: either accept the recommendations from the commanders on the ground and commit the troops, or take everyone out. If the president goes part way on the number of troops requested, he will indeed take steps towards creating the next Vietnam. A poor decision will empower our enemies globally and put all of us at risk.
Susan writes:
Obama shouldn't stop blaming the Bush administration at all, because Obama knows that if he stops doing this, then people will easily forget who started it. So, I would always remind the people whose war it really is and how we got into it. How soon we forget.
Bob from Syracuse, Indiana writes:
Jack, The day Obama took the oath of office the Afghanistan war became HIS issue to deal with. He didn't go into the presidency blindly. Obama received briefings from November 2008 until January 2009. His Chief-of-Staff, Press Secretary and the rest of the White House damage control team need to pony up and quit trying to dodge the issue.
Michael from Alexandria, Virginia writes:
When we stabilize Afghanistan (finish cleaning up that mess) and pass a tax bill which deals with the mounting deficits caused, in large part, by the Bush tax cuts, the unfunded expansion of Medicare and the expansion of the military. That will be a long time, Jack.
Tito from Hollywood, California writes:
He should stop blaming the Bush admin immediately. We all know who got us in this mess and bringing Bush's name up only makes him look unsure of himself. He needs to get off the pot and start making some very difficult decisions, starting with Afghanistan. The majority of Americans want out of Vietnam II.