FROM CNN's Jack Cafferty:
A majority of Americans supports two of the more controversial parts of health care reform: the public option and requiring everyone to buy insurance. A new Washington Post/ABC News Poll shows independents and seniors, both crucial groups, have warmed up to the idea of a public insurance option.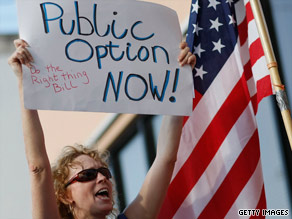 57 percent favor the public option and 56 percent support making it mandatory for all Americans to buy insurance - either through their employers, on their own, or through Medicare or Medicaid.
Here's the catch: There's even broader opposition to how to pay for all this. 61 percent are opposed to the proposed tax on so-called Cadillac insurance plans.
And nearly 70 percent say they think any health care bill will increase the federal deficit... although almost half of those people say it would be worth it to grow the deficit in order to get health care reform.
If you're having trouble sleeping tonight, the Senate Finance Committee has posted its health care bill online - all 1,500 pages of it.
This Senate plan does not include a public option. But in the House, Speaker Nancy Pelosi says she'll continue to fight hard for the public option.
Republicans and some conservative Democrats are opposed - saying it will drive private insurers from the market and lead to a government takeover of health care.
Here's my question to you: Should health care reform contain a public option and be mandatory for all Americans?
Interested to know which ones made it on air?
Ken from Delaware writes:
A public option will make no difference as long as we have the same Congress we have now. They have taken care of Wall Street, the banks, the insurance industry, and the defense industry. My health care premiums are going up 20% next year and they will continue to go up 20% per annum. Greed has infected every aspect of our society and it can't be stopped anymore. The Democrats have the presidency, the House and the Senate but nothing has changed.
Scott writes:
Yes, give us the public option and make it mandatory. I would rather pay reasonable taxes to be able to see a doctor than to never be able to afford insurance and live the rest of my life in fear.
Ron writes:
I could live with the public option, but nothing should be mandatory for all Americans when it comes to health issues. Many people are happy with what they have. I believe that the "mandatory" issue stems from the absolute hate Congress has for the insurance companies. The government can't even run an efficient post office, how can they run our health care?
Elaine writes:
If it's mandatory, it better be affordable. To be affordable, there must be a public option.
Bill writes:
No. The clear experience with mandatory insurance is that some people just will not sign up – at any price or with any penalty. And nobody is going to deny them free services when they need them.
P.J. writes:
Yes, Jack, any national health care reform must include a public option and it should also be mandatory to have health care insurance. Recently diagnosed with cancer and subsequently terminated from my job, I have lost the Cadillac heath insurance I had and can't get anyone to insure me now. (Can you say pre-existing condition?) I'm screwed. We need a public option.
Lisa from San Jose, California writes:
I want the Cafferty Bill – end the anti-trust exemption and expand Medicare to all.