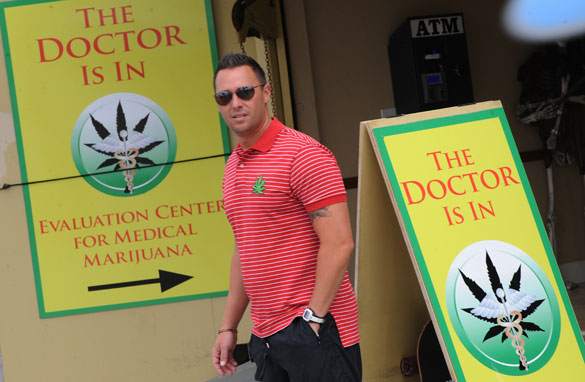 Signs advertise medical marijuana prescriptions outside an evaluation clinic on Venice Beach in Los Angeles. (PHOTO CREDIT: MARK RALSTON/AFP/GETTY IMAGES)
FROM CNN's Jack Cafferty:
Public support for legalizing marijuana is at an all-time high - no pun intended.
And coincidentally, the Obama administration is easing up on the use of medical marijuana. The Justice Department now says pot-smoking patients and their authorized suppliers shouldn't be targeted for federal prosecution in states that allow the drug for medicinal purposes.
Officials say it's not a good use of prosecutors' time... Although they say agents should pursue marijuana cases that involve violence, the illegal use of firearms, selling pot to minors, money laundering or other crimes.
Supporters say marijuana helps treat chronic pain, nausea and other illnesses... while critics say this move is a step backward in the fight against Mexican drug cartels.
14 states currently allow some use of marijuana for medical reasons. California is especially known for having pot shops everywhere.
A new Gallup poll shows support for legalizing marijuana has shot up in the last few years to 44 percent. 54 percent are opposed. Support for legalizing weed had been fixed at around 25 percent from the late 70s through the mid-90s.
Liberals and younger people are more likely to favor decriminalizing pot... no surprise there... while conservatives and seniors are more likely to be against it.
Gallup suggests that if public support continues growing at the same rate - the majority of Americans could favor legalizing the drug in the next few years. California voters may get to weigh in next year with a ballot initiative to legalize and tax marijuana as a revenue source.
Here's my question to you:The federal government OKs medical marijuana. Is it the first step toward legalization?
Interested to know which ones made it on air?