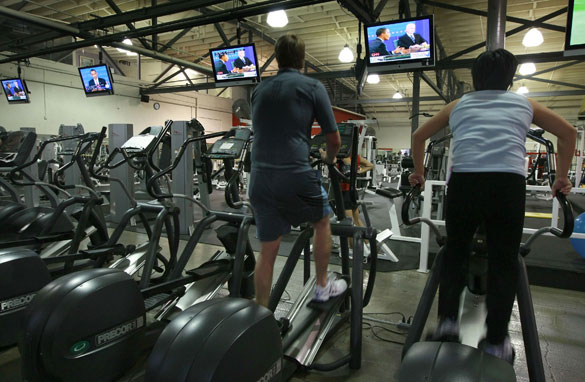 Should healthy employees have lower insurance premiums? (PHOTO CREDIT: GETTY IMAGES)
FROM CNN's Jack Cafferty:
When it comes to health care reform, it could pay for workers to lose weight, stop smoking or lower their cholesterol.
The Washington Post reports the bills in the Senate include so-called "wellness incentives", which may more than double the maximum penalties employers can charge workers who flunk medical evaluations.
This follows a trend among some companies that offer lower premiums to employees who don't smoke, complete health assessments, or meet goals for blood pressure, body mass or cholesterol.
Supporters say incentives like these can make people choose healthier lifestyles, but critics say this discriminates against pre-existing conditions. They say it could make health coverage too expensive for those more at risk for things like diabetes, heart disease or stroke.
Skyrocketing health care costs have left some wondering whether health insurance should be more like auto insurance – where good drivers get discounts and reckless ones pay more.
Meanwhile, it's open enrollment time at offices everywhere, and CNNmoney.com reports that employees will face "shockingly higher" health costs. Companies are increasing everything from deductibles to co-payments and employee out-of-pocket maximums.
Many employers are also moving from a co-pay, meaning a flat fee of anywhere from $10 to $35 per doctor visit, to a co-insurance model, where employees will pay a percentage of the total medical expense.
Companies are also offering fewer health plans, which may mean some people will be forced to switch doctors.
Here's my question to you: Should healthy employees have lower insurance premiums?
Interested to know which ones made it on air?
Dee from Georgia says:
Exactly how would the "healthy" employees be determined? Wouldn't those guys who ran the Detroit marathon and dropped dead perhaps have been classed in the healthy group? What about "healthy" employees who do hazardous things, like drinking and driving or using drugs? How could that be determined? How about those who might not drink and drive, but who sit at home every evening and down a 12-pack of beer?
Terry says:
No. It's a slippery slope that could then lead insurance companies to charge people more who have genetic predispositions to certain diseases. The point of insurance is to pool the risk. It's not right for an insurance company to penalize you for the very reason you bought their product to begin with, car insurance or health insurance!
Christopher says:
If I may be blunt, Mr. Cafferty, it seems like there are people telling others what to do. The day someone tells an impoverished woman with four children to stop having babies, and being a burden on the welfare system, I will start taking care of my weight. Stay out of people's business, and tend to your own life.
David from Arlington, Virginia says:
Absolutely not. Everyone, including young people, should be required to pay a basic premium for health care in order to make sure that there is enough care for everybody. It should be the same amount for everyone. If we start charging more for this and less for that we are going to be in a bigger mess than we already are at the moment.
Patty says:
This sounds like an easy way to discriminate when hiring someone. Is the applicant overweight, limp, or maybe just wear eye glasses? Sounds to me like another reason we need not only a public option, but single payer, non-discriminating health care.
Jim says:
Jack, I design health plans for companies like CNN and believe me it's very simple to figure out the best health plan choices at Open Enrollment. If you have questions, just let me know.