FROM CNN's Jack Cafferty:
A white Louisiana justice of the peace has refused to issue a marriage license to an interracial couple. It's 2009 - the United States has its first ever African-American president; and Louisiana has some knuckle-dragging moron Justice of the Peace who takes it upon himself to decide who can get married.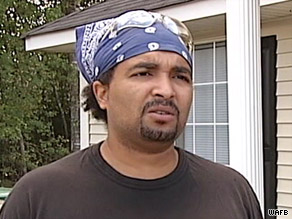 Terence McKay claims a justice of the peace refused to give him and his white girlfriend a marriage license.
Keith Bardwell of Tangipahoa Parish, north of New Orleans, insists he's not a racist and that he tries to treat everyone equally. Then he says this:
"I just don't believe in mixing the races that way. I have piles and piles of black friends. They come to my home, I marry them, they use my bathroom. I treat them just like everyone else."
In addition to being a justice of the peace, Bardwell is also a social scientist. He says the reason he refused this couple a marriage license was out of concern for any children they might have... saying neither black nor white society accepts biracial children, and they would suffer.
Bardwell says he's turned down about four couples during his career - and he still has a job? And Louisiana allows this kind of crap to go on?
The bride, who is white, insists this is all about discrimination and racism - and wants Bardwell to resign. She's right and he should be fired.
Civil rights groups are calling for him to go too.
The ACLU says the Supreme Court ruled in 1967 that the government cannot tell people who they can marry... they want the state judiciary committee to investigate. I wonder if they will.
Here's my question to you: What does it mean when an interracial couple is denied a marriage license in Louisiana in 2009?
Interested to know which ones made it on air?
Bud writes:
I lived with a black woman for 6 years and even though we ended up going our separate ways, mainly due to the fact that she wanted to get married and have children and I had been there, done that – I loved her and still do. People are people and you can't always choose who you fall in love with. Mr. Bardwell should be put to sleep.
Rula writes:
It means that one justice of the peace in Tangipahoa Parish is living in the past. That's all. Let's not generalize Louisiana, folks.
C.C. writes:
I agree with the judge. The children will suffer. I have a child who wants to date a black girl and I flat out refuse to let him. I was raised not to date outside of my race and I don't want him to do it either.
Michael writes:
Bobby Jindal, where are you? You want to show true leadership? Step up, or continue losing credibility and kiss your political career bye-bye. Just my 2 cents.
Steve from Las Vegas writes:
Justice Bardwell, The cleaners called. Your Klan robes are ready.
Julie writes:
In defense of the state of Louisiana, my husband and I got "interracially" married in Terrebonne Parish 35 years ago. And, oh yeah, it's still lasting.
Dan writes:
It means that Jimmy Carter knows what he's talking about concerning the continuing influence of racism.
Don from Westport, Massachusetts writes:
Geez, I wonder if Louisiana knows we landed on the moon.
Stacy from St. Augustine, Florida writes:
What's the problem? He said that he has piles of black friends and they use the bathroom in his house. It's good of him to look out for those biracial children. You know how they turn out. Grow up go to Harvard and become the President of the United States.