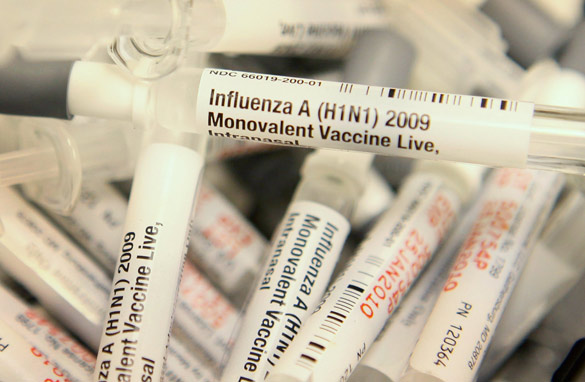 Doses of H1N1 influenza vaccine sit in a basket at Rush University Medical Center in Chicago, Illinois. (PHOTO CREDIT: Scott Olson/GETTY IMAGES)
FROM CNN's Jack Cafferty:
When it comes to flu season, this year is a two-fer. In addition to the regular old garden variety flu - we have the added worry of swine flu.
Officials now say swine flu has been linked to the deaths of 11 more children in just the last week. 43 children have died from swine flu in the last month. In a normal winter - fewer than 50 children die from the flu in the entire season.
One vaccine maker says children under 10 will likely need two shots of the swine flu vaccine to develop full immunity. Not surprising - since children need two doses of the regular flu vaccine the first time they get it in order to develop full immunity. So have fun with the kids and getting their four flu shots. For adults - it's believed one shot of the swine flu vaccine is enough.
Here in New York, health care workers had been ordered to get vaccinated or face losing their jobs. But today a judge temporarily halted the mandatory vaccinations.
And even though the swine flu is causing what's called widespread disease in 41 states - a lot of people don't plan to get the vaccine. Some say they're concerned about side effects or the safety of it.
The New Yorker reports in an article called "The Fear Factor" that "the anti-vaccine, anti-government and anti-science crowd" has had a big impact on public opinion… even though the odds that a vaccine would make you sicker than the illness itself are "practically zero."
Here's my question to you: Do you have any reservations about getting a swine flu shot?
Interested to know which ones made it on air?
John from Carlsbad, California writes:
Jack, When the government gives the drug companies immunity from any blame if all this goes wrong both criminally and civilly then I have reservations. If it has been tested and is safe, why do the companies need these protections? Makes you think. Makes you think even more that none of the news agencies are reporting this either.
Susi from Tucson writes:
I will not. I do not feel the vaccine is completely safe nor am I confident it will actually prevent the swine flu. I am also one of those 'wacky conspiracy theorists' who believes the multi-billion dollar pharmaceutical companies are more interested in making more billions than your health.
David from Orlando writes:
None whatsoever. Both my wife and I are heart patients; my wife is a heart transplant candidate. As our regular flu shots didn't bother us, we would be crazy not to protect ourselves. We have friends who are anti-vaccine, but with H1N1 here in our county, we are being very careful of who we associate with. Vaccines all around!
Barb from Arizona writes:
I still remember in the 1970s when the swine flu invaded us. The vaccine was produced so quickly that people died from the vaccine. After 60 days of injecting people, they stopped it. That has to tell you something. I am afraid that has happened this time too, so no I will not get it.
R. from Boston writes:
My husband (a doctor) and I got our regular flu shots 2 weeks ago, no reactions. This week, we got our H1N1 injectable shot, so far no reactions. (Oink, Oink, maybe I spoke too soon.) Last year avian, this year swine, next year monkey? Looks like we are just making pharmaceuticals rich via the fear tactic.