FROM CNN's Jack Cafferty:
Here's just another example of your government at work - Senate Democrats want to get quick approval of a bill - separate from the overall health care reform plan - that would increase Medicare payments to doctors by nearly $250 billion over 10 years. This money would be added to the deficit.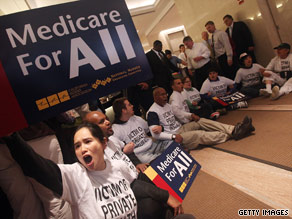 The measure would avoid a 21 percent reduction in Medicare fees paid to doctors that's scheduled to go into effect in January... along with future cuts. The American Medical Association is of course calling on Congress to pass this thing - saying it will "protect seniors' access to quality care."
The measure was introduced without much attention in the Senate Tuesday - and it's been set aside for a quick vote next week... instead of being sent to the Finance Committee for hearings - which is the way things usually work.
It will need 60 votes to pass. Republican leaders along with some Democrats are opposed. They rightfully feel our deficits are big enough without adding another quarter of a trillion dollars if these increases in doctors' payments are put into place.
Why are there two separate bills? Well - if this $250 billion isn't included as part of the overall health care reform tab... then Democrats can say they're not exceeding President Obama's goal of $900 billion for health care reform over 10 years.
I know the government treats us with contempt... but we're not stupid. It's as if nothing is beneath these people.
Here's my question to you: Should Congress add $250 billion to the deficit with a separate bill for higher doctor fees?
Interested to know which ones made it on air?
Kelley writes:
No, Congress should not give a back door raise to doctors. The additional $250 billion combined with the health care plan is not sustainable. Someone has to slow down and look at this from a bigger picture mentality. The quick fix always leaks.
Brian from Scottsdale, Arizona writes:
I disagree with you, Jack. The majority of us are stupid. We prove it every election by voting for the same clowns, then sit back and wonder why we're getting screwed.
Karen writes:
I work for a doctor's office and I don't believe most people understand what a paltry amount Medicare actually pays the doctors. A $6,000 charge for a surgeon's fee for a cataract surgery would be reimbursed about $400. The anesthesia for said procedure would be about $600 and reimbursement would be around $50. Whether it should be in a separate bill or not, I don't know but Medicare reimbursement definitely needs to be increased.
Lu from Flagstaff, Arizona writes:
Everyone wants a piece of the pie: the insurance companies, doctors, drug companies. They dread the single-payer or public option, which truly would bring down the deficit and give the people the help they need in health care.
Michael writes:
I am a Democrat and I am starting to feel that my future and my unborn child's future are slipping away. I am only 24 years old and feel that I will not be able to retire or "live the American dream" like my parents.
Jim writes:
Why not? As we were promised, just more of the same.
S. from Munhall, Pennsylvania writes:
Absolutely, Jack. Why, just the other day, I actually saw a couple of doctors who were driving a Chevy pickup and a Saturn car. It's pitiful to think that a doctor can't afford a better car. How are they supposed to get a trophy wife if that's all they can afford to drive? We've just gotta help them.