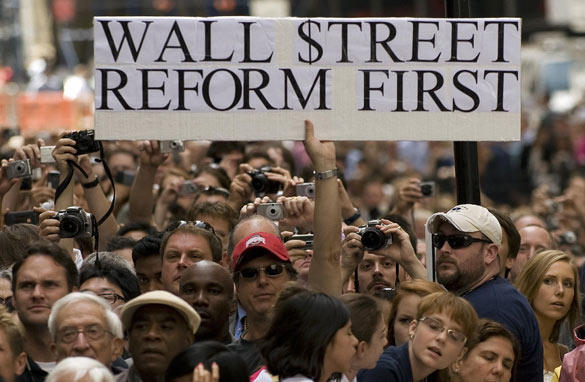 (PHOTO CREDIT: JIM WATSON/AFP/GETTY IMAGES)
FROM CNN's Jack Cafferty:
Americans are mad as hell... and they're keeping both big business and government in the crosshairs. The Wall Street Journal reports that historically the public focuses its anger on either one institution or the other - but not this time.
On the one hand, people are frustrated with the Wall Street failures that led to this financial mess; and they're outraged at ongoing situations like bonus payouts at AIG. But Americans also see too much involvement by Congress and the federal government - accusing the administration of "socialism" and a "takeover" of the economy.
What's interesting here is some don't see government and business as opposing forces, rather they see "a unified elite pursuing one big swindle." For example - the government using hundreds of billions of dollars of taxpayers' money to bail out banks and automakers.
This anger at both government and business is making it difficult for either Democrats or Republicans to connect with voters. A founder of one "tea party" group says the greatest movement within the tea party is "None of the above," a belief that lawmakers in both political parties aren't cutting it and need to be removed. People really do get it. The question I keep coming back to is: Why do we continue to re-elect incumbents?
Democrats say once their agenda is in place - it will prove they can solve problems and people won't distrust government as much. Talk is cheap. So far the Democrats don't have a lot to show for their control of the executive and legislative branches of government.
Here's my question to you: At this point, do you have more faith in government or big business?
Interested to know which ones made it on air?
Brett from Hamilton, Ohio writes:
I have faith in the free market. Big business exists as a direct result of big government.
L.E. from Westminster, Ohio writes:
They act like the same thing – scratching each other's backs while the rest of us break ours. Neither has any trust left, AIG case in point.
Sierra from Dallas writes:
I trust government to do what is best for business and I trust that business will do what is best for their profit lines. I also trust that neither will do what is right or what is best for We The People of the United States.
Bob from Stillwater, Oklahoma writes:
Government. After all, we are the government. We elect the people who represent us. True, they don't always do what we might like, but we have the option of voting them out.
Jim writes:
They have both had huge failures but government fails more often. I will take my chances with business.
Terry from Florida writes:
Americans rose up and took out the British government and high taxes in 1776. Americans need to do the same thing today.
Jim from Chicago writes:
I have total faith that big business will do what's in their best interest, not mine. With government, depending who's in control, at least I figure I have some chance. Part of something is better than all of nothing.
Jack from Wisconsin writes:
Are they not the same?
Darrick from Cincinnati writes:
The little remaining faith I have is reserved for you and Wolf! Don't blow it please because I probably won't be able to cope!