Three-quarters of Americans say there is more crime in the U.S. than there was a year ago. Gallup's annual crime poll shows this is the highest level since the early 1990s. The poll also finds 51-percent of Americans say there is more crime in their local area than a year ago.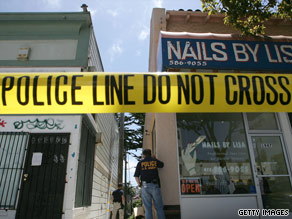 The official crime statistics won't be released until next year. But it's worth noting that during difficult economic times - it's not uncommon for crime to increase. And even though the statistics aren't out yet - it seems like stories about crime and violence are everywhere these days:
– Making national headlines, there was the brutal beating death of a 16-year-old honor student in Chicago... which was only one example of an epidemic of murders of young people in that city.
Not far from Chicago - In Joliet, Illinois - where shootings and murders are up from last year - some people are afraid to come out of their homes.
In Washington, D.C. - Two teens were killed and three others were wounded yesterday. Police think it was a drive-by shooting possibly motivated by an ongoing dispute between rival neighborhoods.
And In Deerfield, Florida - police say five juveniles are in custody after a 15-year-old was set on fire after being doused in rubbing alcohol. A couple of these kids were even seen laughing about it.
Here's my question to you: Is crime a greater threat to your well-being than it was a year ago?
Interested to know which ones made it on air?
Jim from Hot Springs Village, Arkansas writes:
Jack, Speaking as a retired police officer, crime increases during hard economic times. But the despicable crimes are usually not economically connected…The sad part about crimes that occur during an economic downturn is that so often people with strong moral values commit crimes because of losing a job or losing their home… just to feed their family. I've had grown men cry in the back seat of a squad car over committing a crime that they would normally never consider.
Norm writes:
Personally, I don't think so. However I see the rise in teenage crimes as a scary reality check for our society. Our sentencing laws are a joke. Time off for good behavior? If they behaved "good", they would not be behind bars. Parole should be done away with. You get 5 years, you serve 5 years.
Greg from Frankfort, Kentucky writes:
In my neighborhood, two doors down from me is a foreclosed house. Across the street, there's another one. Most of us here are in the same boat – we're just trying to survive in the midst of tough economic times. So everyone knows that the other person doesn't have anything either, and no one bothers to break into another's home because they know anything of value probably has already been sold off to pay rent or buy food. The best deterrent to crime is to not have anything.
Martha from Oklahoma writes:
You bet that crime is worse. I live in a small town in Oklahoma. Last summer and fall, our quiet residential street was peppered with gunfire in 3 drive-by shootings. It scares you when this kind of thing hits home.
Don from Florida writes:
I am a firearms instructor in Nassau County, Florida. Last weekend, we had 18 people go through our courses to get concealed weapons carry licenses. The number of people here getting these licenses is astounding. Everyone expresses a fear of being attacked. When I go to Jacksonville's concert hall downtown, I go heavily armed because one of the neighborhoods west of there is the fourth deadliest in America. Imagine listening to Mozart while carrying a .357 magnum.