FROM CNN's Jack Cafferty:
Despite all the hoopla over the Senate Finance Committee vote, there is still a very long way to go before health care reform becomes a reality. President Obama applauded Senator Olympia Snowe for becoming the first Republican to break ranks and vote for health care reform - but the truth is Snowe is keeping her options open.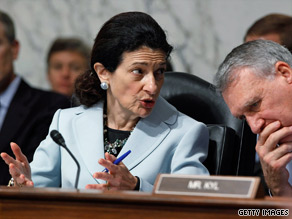 Senate Finance Committee member Sen. Olympia Snowe (R-ME) talks with Sen. Jon Kyl (R-AZ) before announcing her support for key health care reform legislation.
Her support sounded pretty conditional when she said: "My vote today is my vote today. It doesn't forecast what my vote will be tomorrow."
And another centrist in the Senate, Independent Joe Lieberman, said he opposes the bill the way it is now because it would raise insurance prices for most Americans.
Meanwhile a group of almost 30 labor unions is warning that the Senate finance committee bill is deeply flawed. They say they'll oppose it - unless they see come changes. Big labor, a key Democratic constituency, is insisting a public health insurance plan is essential to reform.
And they're not the only ones... as the Senate committee passed its bill without a public option, House Speaker Nancy Pelosi stood on the other side of the Capitol still insisting the House would pass a bill with one. Pelosi also says a bill will pass "certainly this year."
Really? There's a lot of people who still aren't on board and a lot of legislative steps to go. At the end of the day - a committee vote does not a health care reform law make.
Here's my question to you: How confident are you there will be meaningful health care reform before the end of the year?
Interested to know which ones made it on air?
Katja from Bradenton, Florida writes:
Hi Jack. No, nothing is going to happen. What we are going to get is the same old thing we always get: nothing. Insurance companies will continue as they are, the uninsured will remain that way, and those "wonderful" politicians with their designer suits and dresses, really great insurance and really large egos, will continue to get paid for doing nothing.
Sylvia from California writes:
Jack, There will be reform – whether it will be "meaningful" is yet to be seen. Whenever the government sticks its nose into anything, the word "meaningful" does not come into play.
Jerry from Jacksonville, Florida writes:
Jack, I'll bet you anything that there won't be a health reform bill this year and if there is, it won't be worth the paper that it is written on. Unless there is a public health option, there is no bill worth a damn. It will just be another way for the insurance companies to raise rates at the expense of the policy holders. The American people lose again.
Peter writes:
I am very confident. Speaker Nancy Pelosi is right on. She and Nobel Laureate Pres. Obama will do it.
Figueroa writes:
Jack, I find it difficult to find the words: I drank gallons of the hope-laced Kool-Aid last year. We did our part. We elected huge majorities of these so-called Democrats that now refuse to tow one of the most fundamental and important Democratic party lines. What else can we do? We completely set them up for a long-awaited success for the American people. They are pissing it away, and I for one am pissed off!
Pete from Augusta, Georgia writes:
Jack, About as confident as I am about the Chicago Cubs winning the World Series. Wait until next year!