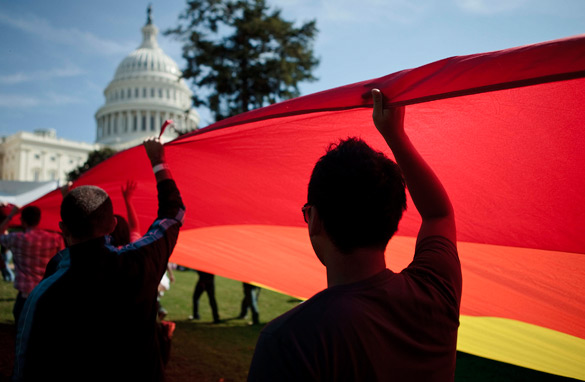 Activists carry a rainbow flag on the West Lawn of the Capitol Building during a protest. The group gathered to push Pres. Obama's administration and Congress to live up to promises to the lesbian, gay, bisexual and transgender community to advance civil rights. (PHOTO CREDIT: Photo by Brendan Smialowski/Getty Images)
FROM CNN's Jack Cafferty:
President Obama doesn't have any shortage of critical issues to deal with right now, from health care reform to the economy and job creation to possibly sending more troops into Afghanistan.
But the president is choosing this moment to wade into yet another heated debate - that of gay rights. In a speech to an advocacy group - Mr. Obama promised to end the military's policy of "don't ask-don't tell." But he neglected to say when or how.
Carl Levin, the chairman of the Senate Armed Services Committee, says he expects the ban to be lifted... but that it's critical for military leaders to agree on the policy change.
President Obama is also calling on Congress to repeal the Defense of Marriage Act.
The 1996 law signed by President Clinton defines marriage as being between a man and a woman... and makes sure that states don't have to recognize same-sex marriages performed in other states.
President Obama doesn't support same-sex marriage and has said he thinks marriage is between a man and a woman. But - he backs civil unions that offer similar rights to gay couples; and just this weekend called for a law to extend benefits to domestic partners.
Meanwhile - Some gay rights activists are getting impatient with the president... saying they've heard his promises before and now want a timeline.
Here's my question to you: Is now the right time for President Obama to wade into the issue of gay rights?
Interested to know which ones made it on air?
Sam from Tempe, Arizona writes:
Of course it's the right time. We're talking about equal rights for American citizens. There's never a wrong time to weigh in on whether or not our laws are treating every American citizen equally and fairly. That being said, I'm glad the president didn't commit to a definitive timeline. All he'd be doing is setting himself up for failure.
R. from Griffith, Georgia writes:
Personally, I believe the president should focus on higher priority matters, such as the economy, jobs, the wars (Iraq and Afghanistan) and health care reform. I don't think gay rights are a priority for this country... However, "don't ask, don't tell" should be repealed. All Americans should be able to serve during war-time and they should be able to serve openly.
Bill writes:
Hi Jack. I am a gay man, but there are greater issues and problems that our president must confront… I want my rights as a gay man to be recognized, but at the same time I want the other problems our country is facing to be taken care of first.
Brandon from Ithaca, New York writes:
When is it NOT time to wade into civil and equal rights? While I'm encouraged by recent discussions on health care, what's the point if my partner can't be added to my health coverage because we're not married? Although, I voted for Obama, I'm sad that the issues he promised to light a fire under Congress on are quickly fizzling out.
Michael from Dallas writes:
While opponents claim that he is taking on too much, President Obama has little choice but to address all of these problems if we are to maintain our way of life and our respect in the world community. Wading in to assure that our Constitution is enforced is a no-brainer.
Mac writes:
How about we work on private sector jobs so we can get this country rolling again and leave the social agenda to wait for another day? He can even create jobs for gay people, too. It's the economy, stupid.