FROM CNN's Jack Cafferty:
On the eve of a crucial vote for health care reform - the insurance industry is playing hardball. The group "America's Health Insurance Plans" came out with a critical analysis of the Senate Finance Committee's reform plan that says health insurance premiums for the average family would increase by $4,000 a year in the next decade - while premiums for individuals could go up by $1,500 dollars.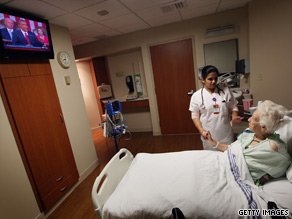 This report suggests premium costs will rise faster under the government plan partly because it doesn't do enough to force people to buy insurance. That means not enough young and healthy people will pay into the system, which will drive up rates for everyone. It also says a proposed tax on employers' higher cost insurance programs-the so-called Cadillac plans– could mean higher premiums for many consumers.
The White House is blasting this report - calling it inaccurate and self-serving... while the Senate Finance Committee calls it "a health insurance company hatchet job."
But the insurance group is standing by its report - saying it was conducted by a "world class firm with a stellar reputation." Which is partially true.
The report was done by Pricewaterhouse Coopers, a reputable accounting firm. But the company acknowledged late yesterday that it didn't look at the entirety of the legislation... just on the four provisions the insurance industry wanted it to look at.
Here's my question to you: How damaging is a health care insurance industry's report on higher premiums?
Interested to know which ones made it on air?
Patrick writes:
Of course, the insurance industry is against health care reform and has a report to prove it. Just like the tobacco industry had scientific evidence that tobacco was not harmful or addictive and the asbestos manufacturers had proof that asbestos was safe. Business is only interested in protecting its profits. The industry could care less how many Americans are get hurt as long they make money, protect the status quo and get their bonuses. Oh yeah and have enough left over to buy congressional votes.
Joe from Missouri writes:
I took what they said seriously. They said they would raise premiums by $4,000 if the bill passes. The report may be junk, but the blackmail threat is real. The solution: Pass a strong public option plan now.
Mark from Worcester, Massachusetts writes:
Not damaging enough it seems. This is getting the same backlash as every other legitimate concern leveled by anyone associated with the right or even the center, and it's a damn shame. Forget the rhetoric and party lines and ask yourselves – who's the better accountant, greedy capitalists or the government? For anyone so indoctrinated to even consider the latter, a follow up: what's the current deficit?
Tim writes:
Jack, I read the news every morning and evening in newspapers and on the web. I did not hear that the insurance research on the health care bill only looked into four questions of the bill. Of course, it is very easy to come out with the answers wanted on any research – just ask the RIGHT questions. Every pollster knows this. Thanks for informing us on this important point.
Deborah from Los Angeles writes:
The health insurance industry's "report" on higher premiums is not worth the paper it was written on. This is the industry's 11th hour, Hail Mary pass to kill health care. While we're at it, let's accept Liz Cheney's report on her daddy's 'legal' torture program or Senator Ensign's report on his parents' $96,000 humanitarian 'gift' to the family of his mistress. Geez.