FROM CNN's Jack Cafferty:
Secretary of State Hillary Clinton said "no" three times when asked if she will ever run for president again. Clinton now works for the man who defeated her in that bruising series of primaries for the Democratic nomination last year. She told NBC News her job as President Obama's secretary of state is great, but "It is a 24/7 job. And I am looking forward to retirement at some point."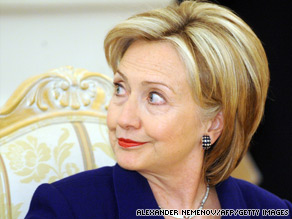 If Clinton changes her mind - she would either have to run against President Obama in the Democratic primaries in 2012... or she would have to wait until 2016. She turns 62 this month.
Hillary Clinton is also denying that her voice isn't being heard in the Obama administration... calling that "absurd." She says that it's not her style to try to be the center of attention... and that she believes in delegating power.
Clinton says she wants to be a positive force in enacting the changes that the Obama administration believes in: "But that doesn't mean it all has to be me, me, me all the time."
Of course - we've seen many examples of politicians who swear up and down that they're not going to run for office - like president, but things change somewhere down the line. And when it comes to the Clintons and their political instincts... many believe it's a bad idea to ever count them out.
Here's my question to you: Hillary Clinton says she won't run for president again. Do you believe her?
Interested to know which ones made it on air?
Timothy writes:
History has shown never count out the Clintons. As she once said, "You will always find me on the front lines of democracy". So – no, I don't believe her. She will run again.
Kevin in Colorado Springs writes:
Does it really matter? After what Obama's doing, there won't be another Democratic president for a long time.
Reid writes:
I am a far, far, far, right-wing conservative and wish she had won the presidency last time!
Linda from Arizona writes:
"Long in the tooth"? Why would you use this hackneyed phrase on Hillary Clinton? She's only 62. Was crypt-keeper McCain "long in the tooth" at 72? Your sexism is showing again, Jack.
E.J. from Tacoma, Washington writes:
She's getting more coverage being Secretary of State than Joe Biden is being V.P. I think she's pretty content the way the cards fell for her. Why would she want to go through that campaigning again only to possibly be let down once more? She'll be getting close to 70 years old in the next race.
Ema writes:
I don't believe her at all. She is a snake. Obama should not have trusted her.
A.J. writes:
I don't know whether Secretary Clinton was telling the truth or not, but I sincerely hope that she runs again. Her millions of supporters — especially younger voters like me — are ready to make history in 2016. By then, Hillary will be ready for a new primary and general election fight, and she'll be stronger than ever.
Joseph from Smyrna, Georgia writes:
Is Hillary going to run for president again, Jack? I guess that depends on what the meaning of "is" is.
Barbara writes:
Yes, I believe her. She looks bored and fed up with politics, as we all are.