FROM CNN's Jack Cafferty:
Yesterday it was Republican Senator John Ensign... today, we have a worm from the other side of the aisle: Democratic Congressman Charlie Rangel. Republicans tried unsuccessfully once again to remove Rangel from the chairmanship of the powerful Ways and Means Committee. They introduced a motion that would have forced him to step down during the ongoing ethics investigation into his finances and other activities.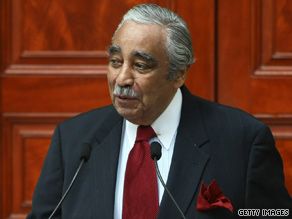 U.S. Rep. Charles Rangel (D-NY)
But House Democrats wouldn't hear of it. They effectively killed the resolution - by voting to shut down the debate and send it to the House Ethics Committee - where the matter has already sat for a year. The phrase, "House Ethics Committee" is an oxymoron.
Rangel has been under investigation for lots of reasons: hundreds of thousands of dollars worth of assets that he allegedly didn't claim on financial disclosure forms. He has admitted not paying taxes on $75,000 in income from a rental property he owns in the Dominican Republic. And - he's accused of breaking New York City laws by keeping several rent-controlled apartments - including one he used for a campaign office. There's more… I just don't have time to list it all.
But despite it all... this weasel remains the head of the powerful House committee that writes our tax law. And judging by the actions of his fellow Democrats yesterday, it's all just fine with them. What it is is disgusting.
Charlie Rangel says he's the victim of a smear campaign by some in the media. He whines that other chairmen usually get to keep their leadership posts when under ethics investigations.
Here's my question to you: Why do House Democrats continue to support Ways and Means Committee chairman Charlie Rangel?
Interested to know which ones made it on air?
Ann from Hampton, New Jersey writes:
The good old boys club is still alive and kicking, with Rangel reigning as the president. He has been there a long time and can probably dish a lot of dirt. If he "goes down", there are a lot of other "weasels" he will most likely snitch on that will join him. He must be basking in the sunshine of all that power.
Emma writes:
Charlie Rangel is an accused man, not convicted or even tried. What message would it send to this country to remove him without the benefits of due process? Where is the administration of justice that this country's foundation is grounded upon?
Jeff from Denver writes:
The Democrats don't have the courage to cross the Congressional Black Caucus. So the question should be narrowed: Why does the CBC still support Rangel?
O. writes:
It's simple. Pelosi and most of the Democrats are hypocrites. Let's put forth a resolution for Joe Wilson for yelling "you lie", when it was actually true, but let's not investigate this known crook. What a double standard.
Steve from Buffalo, New York writes:
Because Rangel is a good guy. He is not using his powers to screw the public. He needs to fire his business managers who probably are good friends or family members.
Roy in Dayton, Tennessee writes:
Jack, I think the answer is simple. People that live in glass houses shouldn't throw rocks. If any of these guys – be they Republican or Democrat alike – started throwing rocks, then everyone in Washington would have to wear steel-toed boots for all the broken glass.
Roger writes:
I think it was LBJ who commented on a fellow Democrat, "Yes, he is a S.O.B., but he is our S.O.B." The same philosophy still applies… some progress in 45 years!