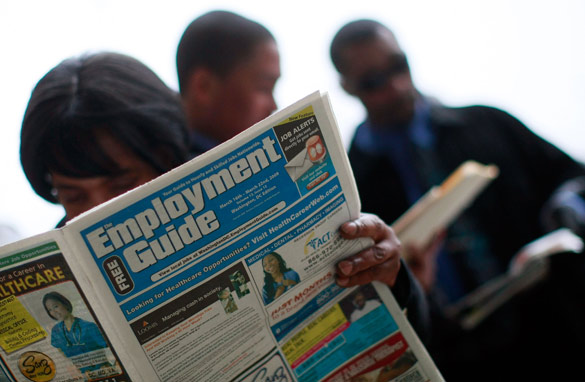 (PHOTO CREDIT: Win McNamee/GETTY IMAGES)
FROM CNN's Jack Cafferty:
Senate Democrats now say they've reached a deal to extend unemployment benefits to almost two million Americans who could stop getting checks by the end of this year.
The plan would give an extra 14 weeks of benefits to unemployed people in all 50 states. Those in states with unemployment rates above 8.5 percent would get another six weeks on top of that.
Senate Democrats may bring the measure to a floor vote as soon as tonight. The House passed its own bill last month that would extend benefits for people only in states with unemployment above 8.5 percent.
The bills would be paid for by extending a tax on employers for another two years... so that all these extra benefit payments don't wind up adding to the deficit. Instead the money will come from the people we are counting on to create the new jobs, employers. Makes no sense.
And time is of the essence here - more than 400,000 Americans ran out of their unemployment benefits in September.
Benefits vary from state to state… starting at 26 weeks and going up to 79 weeks in those hit hardest by the recession. The average payment is about $300 a week.
The national employment rate hit 9.8 percent last month. That's a 26 year high. And it's expected to go higher into next year - even as the economy starts to recover. Estimates are there are now six workers for every available job opening.
Here's my question to you: Should there be a limit on how long people can collect unemployment benefits?
Interested to know which ones made it on air?
Robert from Bowie, Texas writes:
We helped the car dealers, the banks, and many other countries, I think we can help the people that have worked and paid taxes for years, and now can not find a job. I think we should help them until they find a job. There are good, hard-working people in my town. They can not help their situation.
C. from San Angelo, Texas writes:
There should definitely be a cap on how long somebody can be on unemployment. I personally know 3 people on unemployment. They are milking it as long as possible. They have no reason not to. It's free money! If you don't have many bills, what is your motivation to work when you can just wait 6 months, and get paid while waiting?!
Jennifer from Cincinnati writes:
Extraordinary times call for extraordinary measures. Watching the news reports out of Detroit today, where thousands lined up for energy bill assistance, really drives the point home. I can't think of a better investment than extending unemployment benefits for struggling Americans right now; keeping money in their pockets works as a short-term, immediate economic stimulus, as well.
Monique writes:
Jack, Hell yes! I have had it with hearing how many people are collecting unemployment benefits, it is disgusting. There should be a three month limit only; if you are out of work for longer than that, it's your choice. There are jobs out there but people think that they're too good for them and that is why they are unemployed. People complain to high heaven that they "can't" find work but their kids still have cell phones and cable TV.
R.E. writes:
Jack, What do you say we extend unemployment payments until all the jobs that have been sent overseas are brought back to the U.S.? And, the money that will pay all of the out-of-work American workers will be charged to the same companies that outsourced those jobs?
Barb writes:
My husband here in Silicon Valley, Ca. would greatly benefit from this! He is about to lose benefits this month. I am exhausted being the only breadwinner and hopes of a job are grim for him.