FROM CNN's Jack Cafferty:
Republican Senator John Ensign of Nevada is just another example of what's wrong with Congress. Ensign tells CNN he didn't break Senate ethics rules... when he helped get a lobbying job for the husband of his mistress. Ensign claims he was very careful and merely "recommended" this man for a job like he's recommended a lot of other people.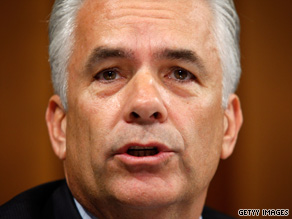 Sen. John Ensign (R-NV) speaks during a mark up hearing before the Senate Finance Committee on Capitol Hill.
But the New York Times recently reported that the senator played an active role in getting the lobbying position for Doug Hampton - whose wife he was sleeping with. And - that Hampton went on to lobby Ensign on behalf of his clients - which he's not supposed to do. Ethics rules bar him from lobbying his old boss for a year after leaving his job on Capitol Hill.
But this slime ball senator insists he did nothing wrong here. Senator, it's ALL wrong. When asked if he has any plans to resign - Ensign says: "I am focused on doing my work."
Now the Senate Ethics Committee (which is an oxymoron) has started a preliminary investigation... which, if history is any judge, is meaningless. They won't do anything... they never do when judging one of their own. The whole thing is a joke and shows the impunity with which these arrogant elected scumbags operate.
Meanwhile Republicans in Nevada and Washington say Ensign can survive this thing politically - unless he really gets slammed by the Ethics committee - or if the situation is referred for a criminal investigation. Don't hold your breath.
Here's my question to you: In light of ethics revelations about Sen. John Ensign, why hasn't he resigned?
Interested to know which ones made it on air?
Judy writes:
There's no reason for him to resign. The Senate is filled to capacity with people of little honesty, character or integrity. They take care of their own. Sickening, isn't it?
Art writes:
Ensign should resign right after Charlie Rangel resigns.
Donald from Canton, North Carolina writes:
The real question should be: why has it taken this long to start a preliminary investigation? He should have already resigned and been forced out along with Craig and Vitter. The Senate is gutless and has no honor among them.
Kate from Florida writes:
Because as a member of "The Family" he believes he is among "The Chosen Few," hand-picked by God himself to be in government. He thinks of himself as a modern day version of King David, just like that knucklehead in South Carolina.
Craig from Orange City, Florida writes:
Jack, I'm hoping we will see him and Charlie Rangel at the depot soon. Actually, if we hold the train up a bit longer we could fill it and send half of the Congress packing. What an embarrassment to the nation. But we deserve it, we keep voting these slugs back into office.
Victor writes:
It seems to me we have leaders who now snub ethics, thinking "As long as I can get away with it, who cares what you think?"
Bob from Newbury, Massachusetts writes:
The GOP stands by Ensign. The Democrats stand by Charlie Rangel. Ethics are in the eye of the beholder.
Bob writes:
Why should he resign? He has a great gig. Great health plan, good pension plan, no accountability, no deliverables, great pay above and below the table. Resign? Wish I had his job. We the people are the idiots. Why keep these guys in office?