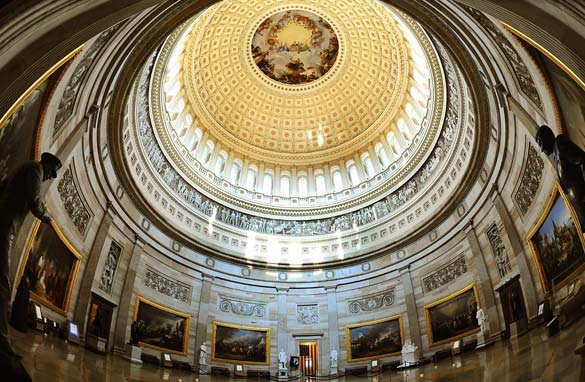 The Rotunda of the U.S. Capitol on Capitol Hill in Washington, DC. (PHOTO CREDIT: KAREN BLEIER/AFP/Getty Images)
FROM CNN's Jack Cafferty:
The Democrats may be in for some trouble come next year's midterm elections.
A new Gallup poll shows 46 percent of registered voters say they would vote for the Democrat in their congressional district if the election were held today; but 44 percent say they'd support the Republican - a virtual tie.
The Democrats held a much larger lead over Republicans for most of 2006 through 2008.
What's interesting here is that the stronger showing by the Republicans comes from the support of independents - who now favor Republicans over Democrats by 45 to 36 percent. In July, it was even.
Another potential sign of trouble for Democrats is Congress' job approval rating - now a dismal 21 percent. Democrats are in charge in both houses.
Historically in midterm elections - the party that holds the White House loses seats in Congress. The average loss is 16 House seats, but some election experts think the Democrats could lose a lot more in 2010.
One analyst says the Democrats have 25 to 30 seats that are "truly vulnerable," plus another 40 where there's a chance of a "competitive race." He says Republicans only have 10 to 15 vulnerable seats.
Even though President Obama's approval ratings have moved back up a little... and Democrats are hoping for results on health care and the economy, those independents - along with seniors - are moving toward the Republican column. And seniors are the group more likely to turn out and vote in midterm elections.
Here's my question to you: How bad will the 2010 midterm elections be for the Democrats?
Interested to know which ones made it on air?