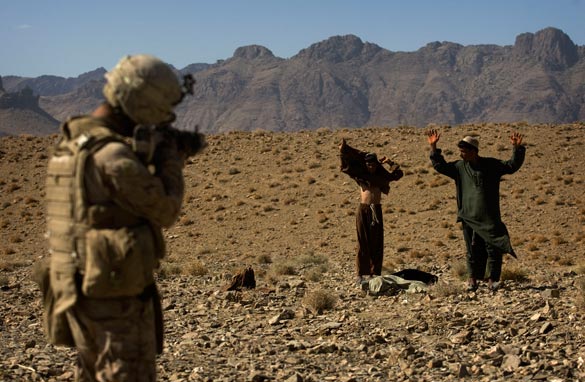 A U.S. Marine points his rifle at Afghan men ordered to raise their arms to show they're not carrying explosives in Farah Province, southern Afghanistan. (PHOTO CREDIT: DAVID FURST/AFP/Getty Images)
FROM CNN's Jack Cafferty:
Tomorrow marks eight years since the U.S.-led invasion of Afghanistan.
Eight years and 865 U.S. troops killed - and the Obama administration now says leaving is not an option. With both violence and troop deaths on the rise - this White House is caught up in a rather public discussion about what to do next.
They're playing down reports of divisions over strategy among members of the administration; but some of these disagreements seem hard to ignore. The top U.S. commander, Stanley McChrystal, has made no secret of his opinion that more troops are needed - perhaps as many as 40,000 - or else the mission will fail.
Others - like V.P. Joe BIden - want fewer U.S. troops targeting only al Qaeda, along with more training of Afghan troops and increasing Predator drone strikes.
McChrystal has said this approach would lead to "Chaos-istan" and that he wouldn't support it. So much for everyone being on the same page. It's no wonder Defense Sec. Robert Gates is calling on all military and civilian leaders to keep their advice to the president private...
Meanwhile, President Obama has said he needs time to meet with advisers to figure out the best way forward... and today he's talking with a group of bipartisan congressional leaders to get their opinions.
As for the American people - it doesn't seem like there's much of an appetite for this conflict. A recent poll shows support for the war in Afghanistan hit a new low of 39-percent.
Here's my question to you: When it comes to the eight-year-old war in Afghanistan, the White House says leaving is not an option. What are America's options?
Interested to know which ones made it on air?
Gretchen from Denver writes:
I guess we could leave Afghanistan, but when I think about the women and children who are being persecuted and murdered by the Taliban, I feel like we should fight for them. When I see the decisions that our president has to make, my every day stress seems really trivial.
Tom from Hiawassee, Georgia writes:
We have no options. Options imply choice and it seems at this point our only "choice" is to stay long enough for them to stabilize their government and their society, regardless of how long it takes or how many American lives are lost. We should have learned from the Russians. We didn't, so here we are once again embroiled in an un-winnable war, fighting for a cause that is un-definable.
T. from Texas writes:
If the president says leaving is not an option, I say Afghanistan is fast becoming "Obama's War." He should listen to Joe Biden, the sensible voice, but apparently the White House is not prepared to do so.
Tom from Pennsylvania writes:
Afghanistan is not a nation-state, but a collection of warring tribes recently removed from the Stone Age. Its borders are determined by its neighbors. Its major exports are narcotics and Islamic fundamentalism. Their life expectancy and literacy are among the lowest globally. Women, comprising half the population, are treated as third-class members, less valuable than camels. As for America's options, how about declaring victory and abandoning that hell-hole?
Jill writes:
Shut down some of the bases in western European countries and reallocate the resources to Afghanistan.
Joan from Burlington, Vermont writes:
I honestly wish I had an answer to this question. My country has been at war my whole life long and not one of those wars has improved the state of this world one iota. It seems wars are good for business and so they go on.