FROM CNN's Jack Cafferty:
If you're known as The Tiffany Network, having your late night star admit he was fooling around with women who work for him on his show tends to take a little luster off the company reputation.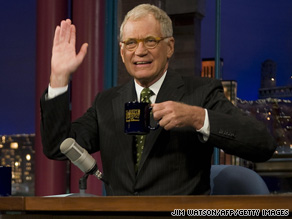 Dan Rather was summarily shown the door by CBS when it was revealed he made a mistake in a report about President George W. Bush. No tolerance at the network of Edward R Murrow - even for the man who inherited the mantle of anchorman for the CBS Evening News from the most trusted man in America - Walter Cronkite.
Now they have Dave Letterman going on his late night talk show and admitting to the entire world that he had sex with women who work for him on his program. His sex life aside, this is not proper business behavior in any office in this country in 2009.
We supposedly have gotten past the days when young women could be pressured into having sex with their bosses in order to get a promotion or a raise. But apparently not at the Late Show with David Letterman.
Andrea Peyser writes a column in the New York Post in which she quotes a former Letterman staffer describing a "toxic" atmosphere in the studio. "Everyone inside the program knows what it takes to get ahead," Peyser writes.
Letterman's a funny guy, but this isn't funny. This is insulting to women.
Meanwhile, CBS reportedly has a policy that bosses need to disclose any sexual relationships with subordinates - but Letterman officially works for his production company Worldwide Pants - They put out a statement saying he didn't violate any of their rules. How convenient.
Here's my question to you: What should CBS do about Dave Letterman?
Interested to know which ones made it on air?
Nikki from North Carolina writes:
CBS shouldn't do anything at all. Or, if they do, they should do it behind closed doors. This isn't a rape case, this is an extortion case. While what Letterman did was wrong, the fact that it is coming out now, after years have passed since the incident, ought to show that there was no harm done. Letterman said his apologies and is now having to face his wife. That's punishment enough.
Suresh writes:
Fire him (I mean cancel the contract with his company) and set an example that this kind of behavior will not be tolerated by CBS.
Female fan of Letterman writes:
CBS should treat Dave the same way they treat their CEO, Les Moonves, who married a CBS employee, Julie Chen.
Joanne writes:
Letterman gets high marks for doing the right thing by reporting the extortion immediately and for admitting his wrong-doing. As long as he is popular and sponsors stay with him, CBS may do nothing.
Bob writes:
Why ask? Sex is natural and fun. No one has complained so leave the guy alone. Isn't everyone here an adult?
Dan writes:
I like Letterman, I think he's funny but I believe he crossed the line and should go. In any other business he would be gone whether the sex was consensual or not. He's the boss – he's supposed to set an example. How hypocritical has he been with politicians guilty of this?
David from Las Vegas writes:
So, he took off his "worldwide pants" a few times. If there was no sexual harassment or threat of job loss, who cares besides his wife? He should have these women on his show and ask them "what were you thinking?"