FROM CNN's Jack Cafferty:
The economy is beginning to recover by some accounts, but not in the way that hits millions of Americans the hardest - unemployment. Former Federal Reserve Chairman Alan Greenspan says the economy will grow more than expected in the third quarter - he expects three percent growth.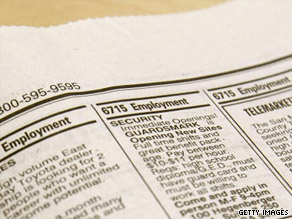 But Greenspan points to the "pretty awful" September jobs report - which showed a worse than expected loss of 263,000 jobs. He says unemployment will continue to go up - eventually topping 10 percent.
It's currently at 9.8 percent, which is the highest rate since 1983.
There are estimates as many as 750,000 additional jobs will be lost between now and next March - that would mean almost nine million jobs lost since the recession began in December 2007. But employment is a lagging indicator - meaning the economy will begin to recover quite a while before we see a pickup in the jobs numbers.
All this has President Obama talking about job creation. The administration and Democrats want to extend safety net programs - like making unemployment benefits available for up to a year and a half. They also may propose new tax incentives for businesses to get them hiring again.
Whether any of these ideas will work remains an open question. One Democratic aide said: "There may not be anything we can do."
Here's my question to you: Do you get any sense the job market is beginning to improve?
Interested to know which ones made it on air?
Steve from Chula Vista, California writes:
As a California small business owner, I say no. Business is down 70% from 3 years ago and my personal salary down 50%; my employees are getting paid more than I am. I had to lay off 50% of my staff and do not see that we will be doing any hiring any time soon.
Jimmy from Houston writes:
They are extending unemployment benefits and are charging employers more to pay for it. No, jobs aren't going to come back when the government continues to use employers as an ATM machine. Hiring more employees means paying even more to the unemployment insurance fund.
Jerri from Stamford, Connecticut writes:
I believe the job market is improving. There is no "silver bullet." America did not get into this situation overnight - and will not be able to get out overnight.
Dianne from Atlanta writes:
When an establishment like ESPN Zone, a very popular Sports Bar, in Atlanta closed last week after ten years in business, doesn't that say something – especially during football season?
Captain Denise writes:
Yes, even though I have been unemployed since December 2008 and have worked in the luxury super-yacht niche industry, we see definite signs of improvement on the horizon both domestically and internationally. The folks who buy these luxury yachts also are big time investors and CEOs so they must know a thing or 2 or 3.
Vivian writes:
Hi Jack, For those of us out there in the real world, we know the job market is worse than dead. Where are the jobs going to come from? Here in Arizona, even the illegals can't find work. And they work for practically nothing. For those of us who have to pay mortgage, bills, buy food and other essential costs, we are SCARED to death.
Brenda writes:
No. I am unemployed in Flint, Michigan. Hope and change aren't working out so well for us here. The mantra here is 'last one out, turn off the lights'.