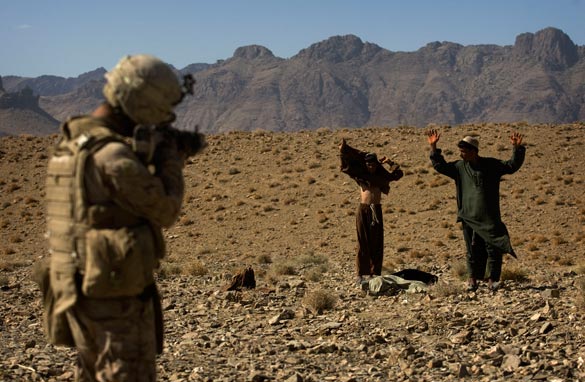 A U.S. Marine points his rifle at Afghan men ordered to raise their arms to show they're not carrying explosives in Farah Province, southern Afghanistan. (PHOTO CREDIT: DAVID FURST/AFP/Getty Images)
FROM CNN's Jack Cafferty:
Tomorrow marks eight years since the U.S.-led invasion of Afghanistan.
Eight years and 865 U.S. troops killed - and the Obama administration now says leaving is not an option. With both violence and troop deaths on the rise - this White House is caught up in a rather public discussion about what to do next.
They're playing down reports of divisions over strategy among members of the administration; but some of these disagreements seem hard to ignore. The top U.S. commander, Stanley McChrystal, has made no secret of his opinion that more troops are needed - perhaps as many as 40,000 - or else the mission will fail.
Others - like V.P. Joe BIden - want fewer U.S. troops targeting only al Qaeda, along with more training of Afghan troops and increasing Predator drone strikes.
McChrystal has said this approach would lead to "Chaos-istan" and that he wouldn't support it. So much for everyone being on the same page. It's no wonder Defense Sec. Robert Gates is calling on all military and civilian leaders to keep their advice to the president private...
Meanwhile, President Obama has said he needs time to meet with advisers to figure out the best way forward... and today he's talking with a group of bipartisan congressional leaders to get their opinions.
As for the American people - it doesn't seem like there's much of an appetite for this conflict. A recent poll shows support for the war in Afghanistan hit a new low of 39-percent.
Here's my question to you: When it comes to the eight-year-old war in Afghanistan, the White House says leaving is not an option. What are America's options?
Interested to know which ones made it on air?