FROM CNN's Jack Cafferty:
As the U.S. continues to fight the wars in Iraq and Afghanistan - it seems like a sharp military mind in the Oval Office may come in handy. The New York Times reports on growing speculation that General David Petraeus - who oversees those two wars - might run for president in 2012. Petraeus' people deny it - but some say the White House is still suspicious.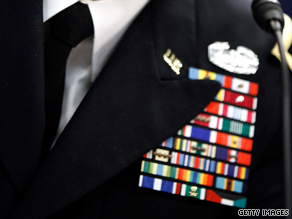 Aides to Petraeus say he hasn't voted for more than five years - to preserve a sense of military impartiality. And although he's been described as a Republican - one top military official close to the general says he couldn't confirm his political party.
In any case - the Times points out how Petraeus, who was a favorite of George Bush, has taken on a more muted voice in the debate over Afghanistan. But he continues to have a seat at the table, as the Obama administration wrestles with sending as many as 40,000 additional troops to the fight .
There was a time when military service was a political asset - Eisenhower came to the White House via the military and was one of America's most popular presidents... JFK, Nixon, Carter - among others - also served.
But in recent elections, the attitude towards men in uniform has changed... voters rejected John McCain, John Kerry and Bob Dole - all veterans.
Here's my question to you: Would you vote for a military commander for president in 2012?
Interested to know which ones made it on air?
Beth from Massachusetts writes:
No, military men do not make good presidents. Eisenhower was elected to two terms because there weren't any adults in this country who hadn't had some connection to him during the war. If they didn't serve with him, they had a relative, neighbor or friend who did.
Vickie writes:
I would vote for a military man for the White House any year! I am a military brat, and I feel some of our best presidents have been former military men. I would vote for Colin Powell in a heart beat and Petraeus is a possibility, but it also depends on where they stand on other important issues.
Doug writes:
Today's war with terrorists is more about political and economic strategy perhaps more so than military. In this war, victory is not defeating an enemy but defeating a cause. The military has its place and it is not the White House.
Mark from Rochester, New York writes:
Absolutely! Military experience at any level should be a constitutional requirement of a U.S. President. As a veteran, I have gained valuable strategic and critical thinking skills that have served me well both professionally and personally. Although there have been some great military leaders who have been substandard presidents, such as Taylor and Grant, many more have led this nation to greatness: Washington, Jackson, Eisenhower to name a few.
Harry writes:
Just what we need: another gun-toting cowboy in the White House! The U.S. is a country not a military enterprise. Making Rachael Ray head of the CIA would work too. She's great at organization, good team work and communication skills, at ease in front of the camera.
Gary writes:
Remember that while Eisenhower was a military man, he warned against the influence of the military/industrial complex in political life. Dick Cheney aside, I would prefer a civilian candidate.