FROM CNN's Jack Cafferty:
President Obama has only been in office a little more than eight months now... but many are beginning to wonder if his political capital is already spent. The president came into office with several top priorities - including health care reform and climate change legislation.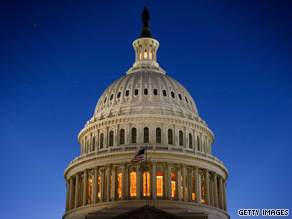 Health care has taken up most of the summer and it's still not clear what the final outcome is going to be. Democrats are close to bringing the legislation to the floor of both houses of Congress for debate. They say they're confident a bill will pass this year... and they see more momentum now than they did under President Clinton 15 years ago - which, when you think about it, is irrelevant.
If health care reform doesn't pass, does it really matter how much momentum it had?
As for climate change legislation - forget about it. The president's top energy adviser says there's no way Congress will be able to pass a bill this year. Which means the U.S. will have nothing to show when talks on a global climate treaty start in Copenhagen in December.
Not finished yet... In the wake of the financial meltdown last year - President Obama and Democratic leaders talked a lot about imposing new regulations on Wall Street. But so far - that's all that is… just talk. Nothing's been done.
Here's my question to you: What major new laws will Congress have passed by the time it adjourns for the year in early December?
Interested to know which ones made it on air?
Dan from Boston writes:
Hey Jack, I'm a rock-ribbed Democrat who enthusiastically voted for Obama. My enthusiasm is waning. As your question points out, there's not a lot of accomplishment to speak of thus far. I fear the only thing that will get done this year is health care and that will be so watered down as to be useless. Yet it will be hailed as a victory and historic! The Dems control the entire government and the insurance companies and big business still win. What does that tell you?
Jerry from Dallas writes:
Jack, Even if Congress only passes one major law this year, it will be one more than what they passed last year. Health care reform is a right to life issue and Congress must act this year before they go off on their other job – getting re-elected.
Don writes:
Most likely, none at all. None of our elected officials can come up with a way to please the corporations and the people at the same time.
David from Martinsburg, West Virginia writes:
Jack, This is a good question, because if it were up to the Republicans there would not be any laws passed. I do believe that the health care bill will be passed, but it will be a watered-down version.
Beth from Dunwoody, Georgia writes:
While it is true that there has been limited progress on Obama's campaign agenda, Obama and Congress HAVE accomplished a great deal. While we knew Bush was a bad president, no one knew the economy would tank, credit would freeze, and the car companies would face going out of business. Congressional bills and other action of the Obama administration have resulted in car companies selling cars again, the banks being stabilized, and the economy turning around.
KC from Kremmling, Colorado writes:
The citizens of U.S. elected a Democratic majority to Congress last fall. They wanted change. I guess this proves that it doesn't matter which party has the majority.