FROM CNN's Jack Cafferty:
As the U.S. continues to fight the wars in Iraq and Afghanistan - it seems like a sharp military mind in the Oval Office may come in handy. The New York Times reports on growing speculation that General David Petraeus - who oversees those two wars - might run for president in 2012. Petraeus' people deny it - but some say the White House is still suspicious.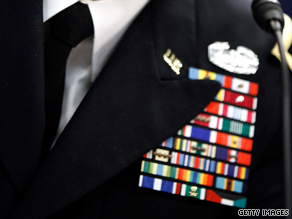 Aides to Petraeus say he hasn't voted for more than five years - to preserve a sense of military impartiality. And although he's been described as a Republican - one top military official close to the general says he couldn't confirm his political party.
In any case - the Times points out how Petraeus, who was a favorite of George Bush, has taken on a more muted voice in the debate over Afghanistan. But he continues to have a seat at the table, as the Obama administration wrestles with sending as many as 40,000 additional troops to the fight .
There was a time when military service was a political asset - Eisenhower came to the White House via the military and was one of America's most popular presidents... JFK, Nixon, Carter - among others - also served.
But in recent elections, the attitude towards men in uniform has changed... voters rejected John McCain, John Kerry and Bob Dole - all veterans.
Here's my question to you: Would you vote for a military commander for president in 2012?
Interested to know which ones made it on air?