FROM CNN's Jack Cafferty:
He gambled and lost, and now the whole exercise looks a little silly. President Obama, the First Lady, Oprah Winfrey... three airplanes, cars, Secret Service, staff, and of course all that luggage trekking off to Copenhagen to try to lure the Olympics to Chicago. The Windy City finished fourth in a field of four.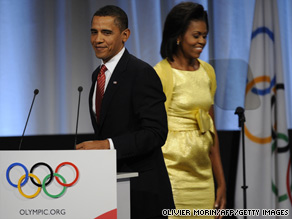 President Obama and First Lady Michelle Obama presented Chicago's bid for the 2016 Olympics today in Copenhagen.
But that's sort of the way it has been going for President Obama lately...
Instead of Copenhagen - he might have gone to Chicago and addressed the brutal murder of a 16-year-old honor student in broad daylight at the hands of four street punks.
Remember the lectures we got from Obama during the campaign about family values, the importance of a father figure in a child's home, etc.? Here was a real chance to walk the walk... but he took a pass in favor of Copenhagen. Instead - all we got was the White House press secretary saying the beating video was chilling.
The Olympics news came the same day as the jobs report and that news wasn't any better. More job losses than expected and the unemployment rate at its highest level in 26 years.
After months of debate, health care reform isn't going anywhere.
Iran is thumbing its nose at our president and the world. They may soon be able to blow up the entire neighborhood.
North Korea certainly doesn't seem deterred by our change of administrations either.
Afghanistan is getting worse, and there is now disagreement within the administration on what to do about it. Study it some more seems the short-term answer. Meanwhile our troops are dying in record numbers there.
Except for the stimulus package, the scoreboard doesn't look too good for our new president.
Here's my question to you: What does President Obama have to do to start putting some wins on the board?
Interested to know which ones made it on air?