FROM CNN's Jack Cafferty:
While the President and First Lady lobby in Copenhagen for the 2016 Olympic Games to come to Chicago, it's worth pointing out that a lot of people who live in there don't want them. Mayor Richard Daley has called it "a once in a lifetime opportunity," and supporters talk about how the Olympics could bring jobs and revenue to the city.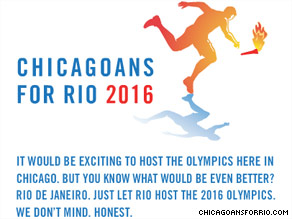 ChicagoansForRio.com urges the Olympic Committee to vote on holding the games in Rio.
But not everyone is buying it.
One poll by the Chicago Tribune/WGN shows fewer than half of Chicago residents want to host the summer games. One group opposed says if Chicago gets the games, "corruption, cronyism, cost overruns... are guaranteed." Hey - it's Chicago.
There's even a web site called Chicagoans for Rio that urges the Olympic Committee to send the games to Brazil. They cite deficits of former host cities which in some cases are huge. They list Chicago's latest crime statistics... there's even a picture of Athens five years after the games where they claim 21 of 22 of the city's Olympic venues now sit empty and unused.
They also compare Rio de Janeiro to Chicago with examples like these:
City nicknames: the Marvelous City vs. the Second City.
Histories: Portuguese empire capital vs. a rail yard.
And... Signature events: for Rio - naked people dancing vs. for Chicago - chubby people eating.
Here's my question to you: Should it matter if more than half of the people in Chicago don't want the 2016 Olympic Games?
Interested to know which ones made it on air?
Kenneth from Seattle writes:
I've heard that every Olympics Games in history has lost money. Sure, some people made money, some quite a lot, but the taxpayers generally lost. I guess it depends on who the Olympics are for.
Merlin writes:
I do not believe Obama should reduce his presidency to lobbying the IOC for favors. What if Chicago loses? That would be egg in the face for Obama.
Jan from New Jersey writes:
Jack, Haven't you learned anything? What the "people" want does not matter anymore. Somebody – with money and power or celebrity – knows what is good for us. That's why I fear that there is going to be some kind of revolt in this country.
M. from Phoenix writes:
Can we stop pretending that this isn't a done deal? Everyone knows Chicago will get the 2016 Olympics. The debate is over regarding whether they should or whether the people want it or why Brazil is simply a better choice. We should also stop pretending that hosting the Olympics had any lasting impact on Atlanta, Salt Lake City, Montreal or Calgary.
Adam from Canada writes:
Entirely irrelevant, sir, as Rio is a mortal lock! South America has never hosted an Olympiad. Suffice it to say, that political chit will be cashed tomorrow!
Jan from Salt lake City, Utah writes:
Jack, I was one of the ones who wasn't exactly happy when Salt Lake was awarded the 2002 Winter Olympics. Boy, was I ever wrong. It was great fun and a boon for our city.
Simon from Ontario writes:
Be careful what you ask for, Chicago, you may get it. I had a ball at the 1976 Montréal Olympics, but the city is still paying for it 33 years later and the venues are crumbling and underused.
Harry from Boise, Idaho writes:
Since when does Chicago pay attention to the majority? Doing so now would set a bad precedent.