FROM CNN's Jack Cafferty:
This country ought to be embarrassed. Our government has turned the debate over health care reform into a series of misrepresentations, name-calling and ugly comments more fit for a school yard than a national forum. First came the Republicans - led by Sarah Palin - who went on and on about "death panels."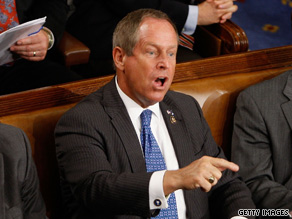 Rep. Joe Wilson shouts, "You lie!" after President Obama denies the health plan would cover illegal immigrants.
She was followed by Congressman Jim Wilson - who called the president a liar during his speech to a joint session of Congress, a public outburst toward the president we've never seen the likes of.
But it's by no means just the Republicans.
On the floor of the House of Representatives, Freshman Democratic Congressman Alan Grayson claimed the Republican health care plan calls for sick people to "die quickly."
Grayson then went on to issue a non-apology... saying he apologizes to "the dead and their families that we haven't voted sooner to end this holocaust in America." Really? He's comparing the plight of uninsured Americans to the Holocaust?
Grayson's a real class act. Right here in the Situation Room yesterday he called Republicans "foot-dragging, knuckle-dragging Neanderthals."
What has happened to us? We used to be able to engage in an intelligent debate, be willing to compromise, reach a consensus, and move on. And when the government engages in this kind of childish behavior, it's no surprise when ordinary Americans start yelling nasty slogans and lies at each other. Sad.
Here's my question to you: When it comes to health care reform, whatever happened to intelligent debate in this country?
Interested to know which ones made it on air?