FROM CNN's Jack Cafferty:
When it comes to the case of director Roman Polanski, many of our so-called Hollywood celebrities seem out-of-touch. Once again. Polanski was arrested on his way to a film festival in Switzerland on a U.S. warrant dating back to a 1977 child sex charge.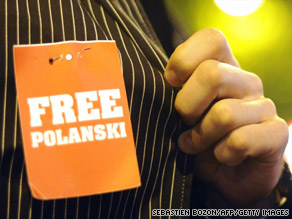 He had pleaded guilty to having unlawful sexual intercourse with a minor, served 42 days in prison - but fled the U.S. for France before he could be sentenced.
The award-winning director of movies like "Chinatown" and "Rosemary's Baby" now sits in a Swiss prison cell - which is exactly where he belongs.
But Polanski's lawyers are fighting his extradition to the U.S. - as are more than 100 Hollywood types who've signed a petition against the arrest; people like Woody Allen and Martin Scorsese.
Actress Debra Winger says it's "a three-decades-old case that is dead but for minor technicalities." Yeah, one technicality being he fled the country to avoid sentencing after officials said he drugged and raped a 13-year-old girl.
Whoopi Goldberg says Polanski didn't commit "rape-rape," whatever the hell that means. And Harvey Weinstein says Polanski was the victim of a "miscarriage of justice." Hey, Harvey: He pled guilty.
California officials have kept the pressure on for all this time and insist they won't bow to pressure from Hollywood.
How would you feel if it had been your 13-year-old daughter?
Here's my question to you: What message does it send when some in Hollywood don't think director Roman Polanski should be punished for a 1977 child sex charge?
Interested to know which ones made it on air?
J. writes:
Jack, I am with you this one. Supporters of Polanski are supporters of rape, period. Regardless how long ago the crime took place, regardless of his contribution to cinema… Polanski pleaded guilty to having unlawful sexual intercourse with a minor. Perhaps the likes of Scorsese and Weinstein ought to spend a week in the general population of St Quentin Prison; they would have a clearer understanding of what it is that Polanski did to that 13-year-old girl.
Q. writes:
Finally. Thank you, Jack! Someone finally asked the most appropriate question: What if it were your daughter? Debra Winger and Whoopi Goldberg would not have the same comment if it had been their daughter assaulted by their good friend Polanski!
Jenna from Roseville, California writes:
The victim has asked that this all go away, that she is not interested any longer and that dragging this up all the time has done more harm to her than what Polanski did to her as a child. Polanski hasn't returned to the U.S. for over 30 years and has not committed any crimes since. Was he wrong? You bet. Should he have done his time back in 1977? Yes. But the mistake was made then and we need to listen to the victim now.
Bob writes:
You would have thought Woody Allen would have enough sense to keep his mouth shut when it came to issues regarding vulnerable young girls and older men in positions of authority. Apparently "irony" is not part of Allen's directorial palette.
Ken writes:
It was a child sex crime in 1977, and since he pled guilty, it's still a child sex crime. I don't have any daughters, but bring the bastard back and put him in jail.
Kara writes:
Add this to the list of reasons not to listen to what Hollywood has to say.
Joe writes:
Roman Polanski should go to jail. He's already going to hell.