FROM CNN's Jack Cafferty:
Tom Friedman writes a scary and sobering column in today's New York Times called "Where did 'we' go?" In it - he compares the political climate today in the U.S. to Israel in 1995... right before the assassination of Prime Minister Yitzhak Rabin.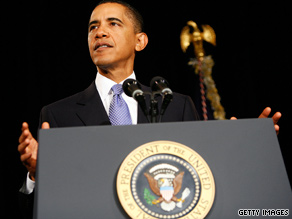 Friedman describes the "ugly mood" in Israel at the time... where right-wingers were trying to de-legitimize Rabin. They questioned his authority and shouted death threats at rallies.
Friedman says the parallels to America today turn his stomach:
"I have no problem with any of the substantive criticism of President Obama from the right or left. But something very dangerous is happening."
Criticism from the far right has begun tipping over into de-legitimizing his presidency.
He's right. You don't have to look any further than protesters comparing President Obama to a Nazi or a Facebook poll asking if he should be killed.
Friedman says even if you're not worried about violence against Mr. Obama - you should be worried about what's happening to American politics.
He talks about the "cocktail of political and technological trends" that make it possible for "idiots of all political stripes" to take advantage of the system... things like excess of money in politics, the 24/7 cable news cycle, the blogosphere and a permanent presidential campaign.
Meanwhile - Republicans are pushing back against claims that conservative rhetoric is creating a dangerous environment for the president.
Party Chairman Michael Steele says of people like Friedman, "Where do these nut jobs come from?" Which to me sort of proves Friedman's whole point.
Here's my question to you: Are critics of Pres. Obama crossing the line in creating a hateful and dangerous environment?
Interested to know which ones made it on air?
Don writes:
The "nut jobs" have always been here; now they have a forum. As long as "legitimate" media give free air time to Sarah Palin's death panels, Glenn Beck's bogus racism charge, and congressmen who disrespect the president, more will emerge. Treat them with the contempt they deserve and hopefully they will wither and die!
David from Scott, Louisiana writes:
After 8 years of extreme criticism of President Bush, I think it's a little hypocritical to now start complaining about criticism of President Obama.
Norma writes:
Glad someone is taking this seriously. I am appalled that it has taken this long to state the obvious. Sometimes acquiescence is acceptance. We as a country are all responsible if we allow this to go unchecked or look the other way. It is extremely unsettling what has transpired in such a short time.
Mike writes:
Jack, I don't think the critics are crossing a line at all. Liberals have had a near monopoly on protesting for the last half century and the media is simply unaccustomed to seeing people from a different ideology vocalize and demonstrate their point of view. It's this fascination and general tendency of the media to highlight 'right-wing' lone wolves' actions that would lead someone to believe it's only coming from one side. In reality, labor unions' intimidation tactics, environmentalist terrorism, anti-white and anti-religious violence is hardly covered in the media at all, despite being more commonplace than one would think.
Thomas writes:
Need we look any further for your answer than to the teacher/census worker found hanging from a Kentucky tree with the word "Fed" carved into him? As the opposition ratchets up its rhetoric, its fringe elements are emboldened to lash out violently at any representative of the government.
Tom from Texas writes:
The bigotry in America is coming to a head, especially here in Texas. There was anger before the election but the hatred since has boiled over. Yes, we should be fearful.