FROM CNN's Jack Cafferty:
Sarah Palin found being governor of Alaska was too difficult and quit halfway through her first term. But she has managed to write her memoir in just four months. Truly amazing by any literary standards I'm familiar with.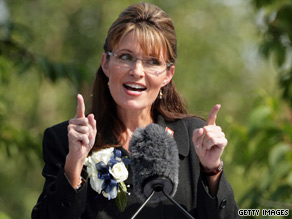 The title of Mrs. Palin's book… due out a scant four months after the book deal was announced, is "Going Rogue: An American Life."
The publisher, Harper, is moving up the release date of the 400-page book to November 17, so it can be on the shelves in time for the holiday book-buying season.
Harper says, "Governor Palin has been unbelievably conscientious and hands-on at every stage, investing herself deeply and passionately in this project." What they don't say is that she wrote the book. She did spend several weeks with a "collaborator" in San Diego after she quit the governor's job.
The publisher is expecting big things of Palin's book - ordering a first printing of 1.5 million copies.
The former vice presidential nominee was roundly criticized during the campaign for being inexperienced; and toward the end, John McCain aides complained she was not sticking to the campaign's plans… and had become a diva.
Since the election, Palin has been the subject of several ethics probes in Alaska, given speeches in the U.S. and overseas, and of course, has had her family drama sprayed all over the media.
The thing I'm most interested in is whether she will go on the CBS Evening News with Katie Couric to promote the book when it comes out.
Here's my question to you: What would you like to read about in Sarah Palin's memoir?
Interested to know which ones made it on air?
B. from Maine writes:
Betcha she had someone write it for her. Betcha it was someone who speaks English, puts sentences together, and was an English major. Let's hope she makes a mint of money from all the ignorant conservatives out there and then retires forever and ever. Amen
Jim writes:
Jack, If I wanted to even spend one minute of my life reading something shallow, trite, self-serving, poorly written and generally useless, I'd get a transcript from any news program on Fox.
Nancy writes:
Mr. Cafferty, Do you suppose Sarah Palin is much more intelligent than you are? Perhaps that's why she was able to write her memoirs in less time than you. She probably didn't need all the help that you did in getting published.
John writes:
"Going Rogue: An American Life" … I think someone put an extra "f" in the title.
Brett from Denver writes:
I would like to know what it's like for a 1950s librarian/secretary-type to live in the 21st century. I get the impression she's having a hard time of it.
Sue from Los Angeles writes:
How she really felt about the biased treatment she received from the media, especially Charlie Gibson and Katie Couric. What she really thought about McCain and how he ran the campaign. How she felt about SNL's portrayal of her. How she felt about the constant flow of lies regarding her family.
Isaac writes:
I just can't wait to color the pretty pictures.
Matthew from Orange, California writes:
I'd like to read the "75% off" sticker on the cover of the book in January.