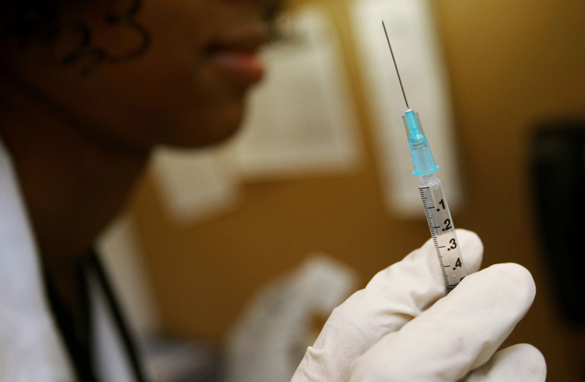 (PHOTO CREDIT: GETTY IMAGES)
FROM CNN's Jack Cafferty:
Get your flu shot or you're fired... that's the ultimatum for health care workers in New York state.
So far, New York is the only state requiring workers to get vaccinated against both the seasonal flu and swine flu. All health care workers in New York, including doctors and nurses, have until November 30 to get their shots - or they risk losing their jobs.
New York Health officials insist that the vaccines will protect the workers... and their patients - from getting the flu.
But some people don't like the idea of forced vaccinations... and they planned a rally in Albany today to protest the measure.
Opponents say it violates their personal freedom... and they also point to the possibility of getting ill from the vaccine, highlighting deaths associated with the government's last swine flu vaccine in 1976.
They also say it's unnecessary - that they won't catch the flu because they wash their hands so often.
The Centers for Disease Control & Prevention says flu activity is increasing in the U.S., with more than half of all states already reporting widespread flu activity.
Both the H1N1 and seasonal flus are expected to cause hospital stays and deaths. The regular flu alone kills about 36,000 people a year in this country; and the number of deaths from swine flu potentially could be much higher.
Here's my question to you: Should health care workers be forced to get flu shots under threat of losing their jobs?
Interested to know which ones made it on air?
Cheryl from Bluffton, South Carolina writes:
I know a lot of wise nurses who say the shots made them sick (or didn't keep them from getting sick). They're in the trenches every day; let them make up their own minds on the subject.
Kenneth from Seattle writes:
Health care workers are in a science-based field, and the best science we have says that flu shots are safe and (mostly) prevent people from getting the flu. If these people don't find the science convincing, they should find another line of work rather than infecting their patients and making the flu epidemic even worse.
Ed from Van Buren, Indiana writes:
No one should be required to take a flu shot. There is no epidemic. It's not polio. At this point, H1N1 is just another red herring by a government agency.
Thom from Michigan writes:
If they are in the health field and dealing with the public and are not intelligent enough to get the shots without being told or forced to, please keep them from treating me or mine.
Lucy writes:
Under threat of losing their jobs? That's just too much.
Justin writes:
Of course not! People should not be forced to immunize themselves. Most who work in the health care industry are educated enough to weigh the benefits and risks of getting a flu shot and should be able to make that decision for themselves with no government intervention required.
Doug from Dallas writes:
Does this question fall into the "duh" category? Of course they should. It's going to be hard enough to stay healthy this year without having to worry about getting sick from the people who are treating you.