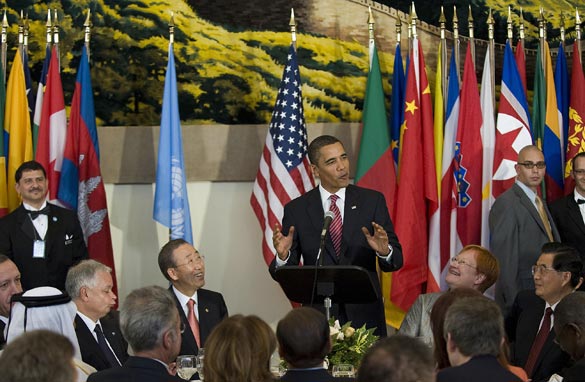 President Obama addresses world leaders during the United Nations General Assembly at UN Headquarters in New York City. (PHOTO CREDIT: JIM WATSON/AFP/GETTY IMAGES)
FROM CNN's Jack Cafferty:
"Everybody is saying no to the American president these days"... that's the start of a pretty scathing piece in the Jerusalem Post about where President Obama stands on the international stage - just as he addresses the UN and meets with world leaders.
Amir Mizroch has plenty of examples... like the Saudis twice saying no to the president's request for normalizing relations with Israel; or the North Koreans saying no to repeated attempts at talks by firing off test long-range missiles; to Russia and China continuing to say no to tougher sanctions against Iran; to Iran itself saying no - by agreeing to talks about everything except stopping its uranium enrichment.
Mizroch suggests the reason all these nations are saying no to President Obama is because the U.S. economy has made him a weak president. If the president manages to turn around the economy in the next two years - and then manages to get re-elected - at that point he might be able to focus on international trouble spots with more success. That's if Iran hasn't managed to blow up half the world by then.
Along the same lines, a piece in the British newspaper The Guardian titled "Obama the impotent" says many in the U.S. and abroad are impatient with the pace of progress under this president.
It points out Mr. Obama hasn't even been able to get health care reform passed in his own country and questions his ability to lead internationally on issues like climate change and regulating international financial systems:
"It appears that the wheels may be coming off the world's post-war leader, and not even Barack Obama can stop it happening."
Here's my question to you: Why is everybody on the international stage saying no to President Obama?
Interested to know which ones made it on air?
Arnold writes:
I wouldn't decide where to have lunch based on Sarah Palin's opinion. Since when does being chosen as a candidate for V.P. automatically make you an expert on domestic and foreign affairs? Does no one remember her addled assertion that simply living near Russia means she has foreign policy qualifications? Have we forgotten that she couldn't name a single periodical she regularly read? Oh, and just up and quitting as governor? If this was a sane world, Sarah Palin would still be doing sports for a local TV station rather than standing almost center on the world stage delivering her strange, convoluted opinions.
Carrie writes:
I wouldn't make a food-ordering decision based on what Sarah Palin says. I'm amazed that anyone outside of her few tin-foil hat supporters even care what she has to say anymore.
AW writes:
Sarah Palin would be ten times a better president than Obama. And just think: CNN would have something to criticize every day. Please post this or do you only post positive things about this administration?
Mark from Newburgh, New York writes:
Sarah Palin has a tendency to call a dog a duck and stick by it. Calling a dog a duck does not make it a duck, and when it starts barking, even her shrill speechifying can't cover up the fact that it's a dog.
Chippy writes:
If she's offering advice on how to deep-six your running mates chances for elected office, or on how to shoot wolves from a helicopter, then she's my go-to-gal. But, for anything else, she can keep her advice to herself. As you rightly pointed out, Palin didn't have a passport until a few years ago and now she speaking in an international forum? I bet when she stepped off the plane her first question was, "Why are there so many Chinese people here?"