FROM CNN's Jack Cafferty:
When the bomber of Pan Am flight 103 was released - Libya and its leader Moammar Gadhafi threw a huge celebration to welcome home this mass murderer. After the civilized world expressed collective outrage at Scottish authorities for releasing this mutant - there was Gadhafi, putting on a display of affection for someone who isn't fit to eat with your dog.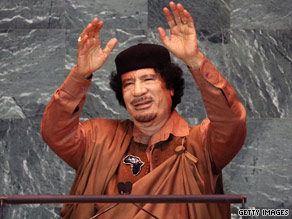 Libyan leader Moammar Gadhafi delivered an address to the UN General Assembly earlier today.
Then Gadhafi had the stones to waltz into New York and share his warped views of the world with the rest of us in a ranting, raving, nonsensical diatribe on floor of U.N. General Assembly.
Turns out since no one would rent a hotel room to this creep - he's spent weeks trying to find a place to pitch his trademark tent - most recently settling on the town of Bedford, New York.
The problem was the land he was using is owned by Donald Trump. Trump explained he'd leased the property to some Middle Eastern associates who in turn allowed Gadhafi to camp out on the lawn.
When the Bedford authorities found out, Gadhafi was told to roll up his sleeping bag and hit the road.
All of which is to wonder what purpose is served by allowing these kinds of people to come here every year for the U.N. meetings.
In addition to creating traffic and security nightmares - a guy like Gadhafi manages to send everybody's temperature up a couple of degrees. And, quite frankly, in New York City we don't need his help.
Here's my question to you: Should the rules be changed to keep people like Libyan leader Moammar Gadhafi out of the U.S.?
Interested to know which ones made it on air?
Linda from Kentucky writes:
Jack, I once ditched my best friend because she had the nerve to insult me in my own home. When I confronted her about it, she said "get over it". Well, I did, and I never spoke to her again. Why we allow this sub-human to set foot in our house is beyond me. It's like opening your front door and inviting a mangy cur to come in and pee on your rug.
Jay writes:
Imagine if the U.N. headquarters was in Venezuela, and Hugo Chavez had prevented Pres. Bush from speaking. America would have lost its collective mind, and yet you suggest America has the right to forbid people it doesn't like from coming to what is considered international soil, not American soil? If you don't like it, put the U.N. headquarters at the South Pole, and then it won't be anyone's problem.
John from Sturgeon Bay, Wisconsin writes:
No! No rules needed here. Gadhafi got the message without any rules. If there were rules, we probably wouldn't have the opportunity to express just how unwelcome he is!
Frankie writes:
No, he is part of the U.N. As Pres. Obama said in his speech, the U.N. is what we make it. I think the U.S. dropped that ball the past several years, and we need to regain the power to be a force for the good in the U.N. A very strong and active U.S. could further trivialize things like Gadhafi's words and actions.
Joe from Miami Beach writes:
If people like Amy Winehouse are banned from entering U.S. borders, why are convicted terrorists allowed? And, to speak publicly no less. I'm a bleeding heart liberal but I have no tolerance for allowing enemies of democracy to participate in one.
Cindy from Miami writes:
A shout out to Mr. Donald Trump: "You're fired."
Michael writes:
No. Everyone should be allowed to speak at the U.N. Sometimes it's good to highlight how insane some people are. And when we see people like Gadhafi, it reminds us that Michael Jackson's plastic surgeon is still employed – even in a bad economy.